The rise of Congressman Ron Paul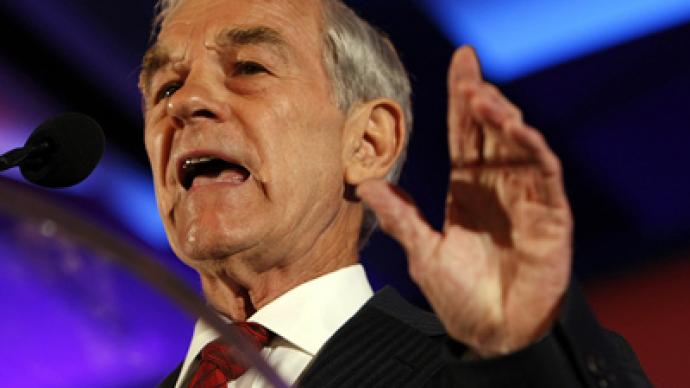 Once shunned by the traditional US media, made fun of by establishment politicians, and questioned by political pundits, Congressman Ron Paul is finally getting his 15 minutes of media fame.
His early supporters were people from all walks of life: rich, poor, young, and old who were fed up with both political parties and American politics as usual. They were the first to call for taking the country back, before it was even popular to do so, before the Tea Party existed. The media, however, was not on the side of Ron Paul supporters. Often times, they dismissed him and his outspoken views or even made fun of him. In a clip on MSNBC, columnist Joel Stein referred to Ron Paul supporters as "crazy"."They're not just on the Internet; they show up to see him speak," he commented.And those fans did more than show up; from Internet fundraising bombs to declaring a Ron Paul Revolution, they were determined to have their voices heard. The movement was much stronger than the media coverage around it. Ron Paul supporter and radio host Adam Kokesh explained, "The charade of the media in the United States can only go so far in denying reality to the American people." These days the US media seems all too eager to speak to Ron Paul, especially about his outspoken views of the US Federal Reserve. Paul has long called for an audit, and even an end to the Fed. In January, he may have his chance to see his goals through.He was recently appointed as the new chairman of the Domestic Policy Subcommittee, a house panel that oversees the Federal Reserve. Paul said he would utilize his new position to, "use it as a good oversight committee of the Federal Reserve… that means more oversight and move toward a true audit of the Fed."In a recent New York Times profile, the Republican Congressman was quoted as saying that there is a "50/50 chance" he will for the office of US President in 2012. His views on everything from domestic policy, monetary reform, to US policy abroad are alternative, to say the least, but they seem to be catching on. His message is resonating even more with the rise of the tea party movement, and subsequently, the rise of Ron Paul himself.Ron Paul recently stated there is a 50/50 chance he will run for the US presidency again in the upcoming 2012 election, a statement Shelly Roche from Bytestyle.tv was happy to hear.Roche explained she and many others, especially young voters, are attracted to Ron Paul's message, because he cured their voter apathy. "If you think back to two years ago, I wasn't political at all and I know a lot of his supporters were in the same position. We were just tired of politics as usual; we didn't think we had a voice. We didn't think there was a person that was involved in politics that wasn't corrupt and that we could actually get behind and have some excitement and hope about. Then Ron Paul, you hear about him and there are videos on you tube and you hear things like he voted against the PATRIOT Act, he votes consistently against regulating the internet, against the war, and then also things like, he doesn't participate in the Congressional Pension Plan, he returns a portion of his budget to the US treasury," she said. "This is the kind of guy that we want leading our country." Many Americans are fed up with the government not listening to the people, they are fed up with increasing government size and irresponsible overspending, Roche explained. "We want something different. We want our system to have to be reigned in; we want someone being elected to actually do that," she added. "If you want any sort of change in the government today we have to get behind someone willing to stick to their guns and stick to their principles."
Nick Hankoff, a political activist with Young Americans for Liberty explained that people are turning to candidates who have an absolute vision and plan, like Ron Paul."Ron Paul speaks the truth," Hankoff said. "He is honest and genuine."A shift in media coverage has occurred because media outlets realized they simply could not ignore him any longer. He explained the younger generation is coming out for Paul, inspiring a new approach from the media and politicians who are seeing the change."Many in the media have warmed towards him," commented Hankoff. "I think there's going to be those who bring about the most ridiculous ad homonym attacks against him and then there's also going to be the ones who see the future for what it is and just try to bandwagon it."Hankoff explained that right now, Americans are less focused on foreign policy and more on solving domestic and economic issues, an area Paul can tackle and then later address his foreign policy objectives, objectives many on the right do not favor as much. "I am the future. I am endorsing Ron Paul's run in 2012," he said.
You can share this story on social media: