Apple's Siri is a Ron Paul supporter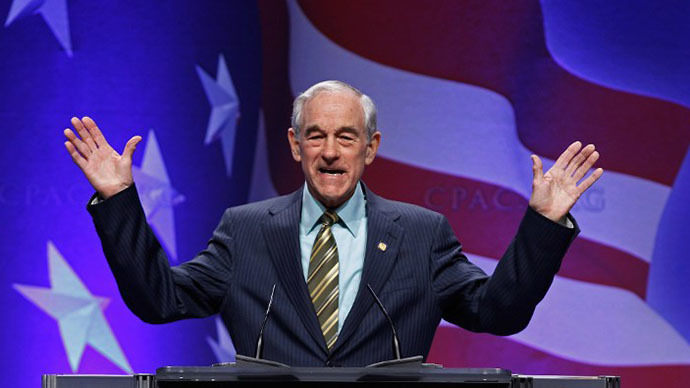 Ron Paul may have retired from Congress earlier this year, but clearly he isn't going anywhere. In fact, he's now believed to be in the pockets of more than half of the residents of the United States.
Around 56 percent of Americans own an iPhone, and if you're one of them then you might want to consider trying out this little test: Fire up Apple's automated assistant, Siri, and ask her, "What are your political views?"
Don't be too alarmed, but Siri might be a secret Libertarian.
A user of the popular web forums on Reddit.com noted over the weekend that when queried for her political preference, Siri opens up a Wikipedia page for none other than the long-time lawmaker from Texas.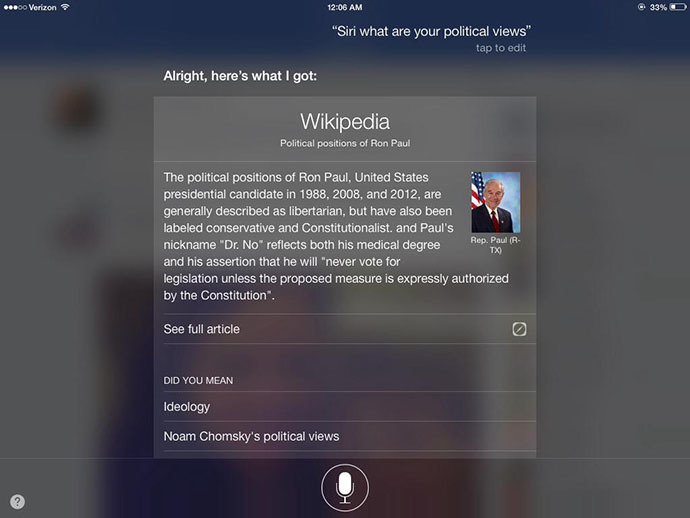 Specifically, asking, "Siri, what are your political views?" sends most iPhone users to the page on the online encyclopedia pertaining to the political positions of Ron Paul — a devout Libertarian who most recently ran an unsuccessful campaign in the 2012 presidential race as a member of the Republican Party.
The exercise has been independently verified by a number of individuals, and even works in some instances after an iPhone is reset to its original, default settings, discrediting the possibility that Siri might be making her endorsement due to the smart phone owner's habitual device usage.
Neither the Apple nor Ron Paul camps have released an official comment yet, but the former congressman did have nice things to say for the Silicon Valley company during a televised debate ahead of last year's presidential election. During a question-and-answer session with hopefuls Rick Santorum, Newt Gingrich and Mitt Romney in early 2012, Paul told CNN's John King, "Apple's a great company." In that instance, Paul was responding to a question about bringing business back to America after Santorum said Apple's operations primarily employ foreign workers and not deserving Americans.
"A lot of people worry about us buying and money going overseas," Paul continued. "But if you send money to China, let's say they're paying wages other there and we send dollars over there, they don't put the dollars in a shoe box. They have to spend those dollars."

"Unfortunately, they're buying our debt and perpetuating our consumerism here and our debt here. But immediately there's a benefit to us because those dollars come back," he added.