Just business? Romney son visits 'No. 1 geopolitical foe' - report
Published time: 2 Nov, 2012 09:45
Edited time: 2 Nov, 2012 13:45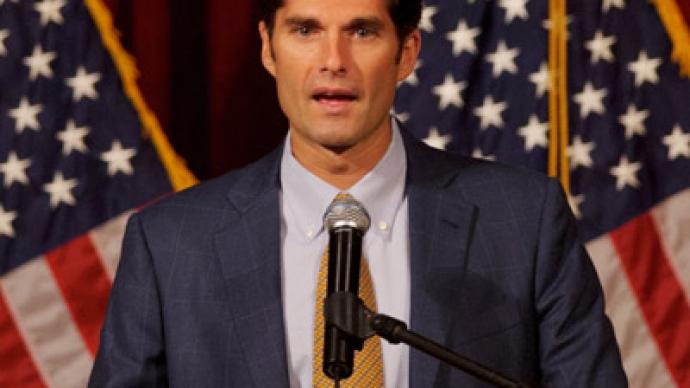 Mitt Romney's branding Russia as America's prime geopolitical foe apparently doesn't inhibit his family's quest for business opportunities. Son Matt reportedly traveled to Moscow seeking investments for his firm.
Matt Romney, the second-eldest son of the Republican presidential nominee, advertised business opportunities to potential Russian partners this week, reports the New York Times newspaper. He sought investment for the California-based retail holding Excel Trust, where he has been serving as senior vice-president of capital markets since 2009.
Greg Davis, the firm's vice-president of capital markets and communications, told the NYT that the visit was unrelated to the presidential campaign.
"It is a harmless trip," Davis is cited as saying. "It was a trip that has been planned for some time. Any travel they've done on behalf of Excel is strictly on the private side. It would have nothing to do with anything governmental."
But while in Moscow, Matt Romney told a Russian known to be able to deliver messages to President Vladimir Putin that, despite the campaign rhetoric, his father wants good relations if he becomes president, the newspaper claims citing a person informed about the conversation.
During his campaign, Mitt Romney advocated taking a tougher stance towards Russia, which he labeled at one point "our No. 1 geopolitical foe". He pledged to confront Moscow with "more backbone" than the Obama administration has done.
The Republican accused his rival of not putting enough pressure on Russia over such issues as the conflict in Syria, Iran's nuclear program and its domestic human rights issues. Romney also criticized the president's "reset" policy and the concessions he agreed to while negotiating a strategic nuclear arms treaty with Russia.
The Obama campaign parried the criticisms by saying that Romney is sticking with outdated Cold War rhetoric. Romney's voiced attitude also caused some concerns in Russia, where politicians and observers feared that the two countries would endure a great set-back in relations, should the Republican take over the presidential office.
Excel Trust is a real estate trust operating across the United States. It reported $820 million in assets to the Securities Exchange Commission in June. The company focuses on "grocery-anchored neighborhood centers" and "free-standing retail properties, among others" it says on its website.
Excel helps investors avoid double taxation under the law by distributing 90 per cent or more of its taxable income in the form of a dividend, Davis told the NYT.
The issue of Mitt Romney's personal wealth and the rate of federal taxes he and his family paid were a major point of confrontation in the election campaign. Some critics pictured the republican as a ruthless businessman who makes money by shipping out jobs and uses offshore havens to optimize taxes.
In September he made public his most recent tax return and limited information from previous years to alleviate the pressure.