Romney spokesperson to reporters: 'Kiss my ass - this is a holy site'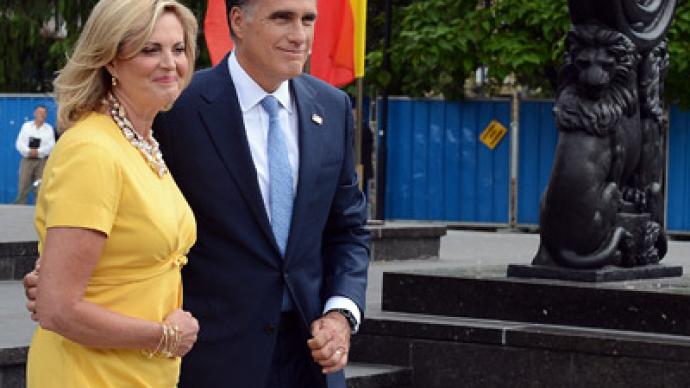 Mitt Romney has spent nearly a week shaking hands abroad while conducting a foreign policy trip that has managed to somehow spark some of the most uncomfortable roadblocks of his campaign. In Warsaw, Poland on Tuesday, things didn't get better.
Right on the heels of having remarks made in London and Jerusalem eaten up and chewed out by the press, an appearance on Tuesday added another line to the latest hilariously unfortunate chapter in the chronicles of former Massachusetts Governor Mitt Romney's bid for the presidency. After being berated by the media for a response about his worst gaffes of his trip thus far, a spokesman for the presumptive GOP nominee told journalists "kiss my ass" and ushered the likely Republican Party candidate away from the media after a visit to the Tomb of the Unknown Soldier in Warsaw.Romney is currently on day six of a trip that has targeted America's closest allies, yet it's been almost a week since he last took questions from the traveling press corps, ABC OTUS News reports. Nevertheless, his public quips in just the last few days have kept him in the headlines from city to city, and not exactly for the reasons you'd expect Romney to want.Intentional or not, remarks that implied a cultural advantage of Israelis over Palestinians during a delivered address in Jerusalem propelled Gov. Romney to the top of papers abroad last week. He's also managed to offend the city of London over their preparedness for the Olympics so significantly that the mayor reached out in the press. With now less than 100 days until the presidential election, Romney might quickly be finding himself crawling uphill all the way to November. And to say that the traveling press secretary Rick Gorka's remark from Warsaw saved the campaign couldn't be anything further from the truth.As Romney left the tomb on Tuesday, a CNN reported asked the governor, "Are you concerned about some of the mishaps of your trip?"Another, reports ABC, asked, "What about your gaffe?"Gorka was caught telling reporters to "show some respect" because the governor was at "a holy site for the Polish people.""We haven't had another chance to ask a question," one reporter shouted back to Gorka.His response reportedly included a warning to both "kiss my ass" and "shove it.""He's been fumbling the foreign policy football from country to country," Obama campaign spokeswoman Jen Psaki tells the Los Angeles Times this week of Romney's trip. "There's a threshold question that he has to answer for the American people and that's whether he's prepared to be commander in chief…. This raises some questions about his preparedness."Strategist Stuart Stevens adds to the Post though that Romney's honesty while abroad may be the key to winning the support from some undecided voters. "He has a tendency to speak his mind and to say what he believes, and whenever you do that, there will be those that disagree with you, and there will be those that agree with you," Stevens remarks. "That's what he's done in these situations. I think people like that. I think that this idea that you have to not speak your mind is something that's not very appealing to people."Commenting to the Washington Post, deputy White House press secretary Josh Earnest acknowledges that it's tough for the governor to garner support from all areas of the world. "One of the challenges of being an actor on the international stage, in particular when you travel to such a sensitive part of the world, your comments are closely scrutinized for meaning, nuance and motivation," Earnest says. Romney's whirlwind tour wraps up after Warsaw.
You can share this story on social media: