Rising food prices inspire outrage in the streets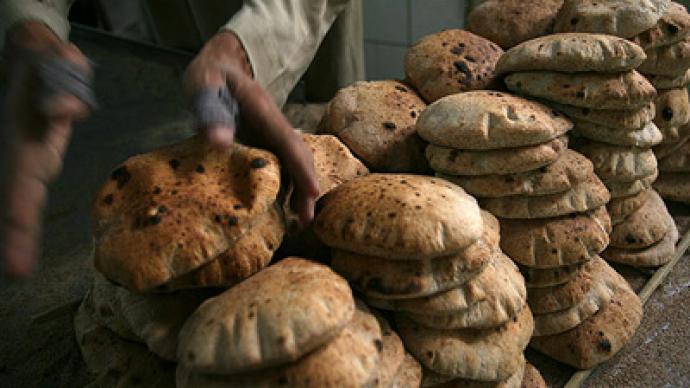 The massive Egyptian protests that ended Hosni Mubarak's three-decade-long rule drew millions into the streets, but it may have started at the kitchen table.
Food prices have surpassed 2008 food crisis-levels around the world. From Northern Africa to the Americas, inflationary food prices are leading to protests—and contributing to revolutions.Contributing Editor for Harper's Magazine Frederick Kaufman said rising food prices affected the more than 40 percent of Egyptians who live on less than two US dollars per day, as well as the country's young, educated and unemployed middle class. "What we've seen are food riots in more than 60 countries over the past two years," Kaufman said. "In Egypt, it's young people who can no longer afford protein for themselves or fresh vegetables for themselves, as well as parents who can't buy milk for their children. This is when people get angry, this is when people take to the streets, there's no question." In poor and working-class neighborhoods in Washington DC, rising prices are forcing Americans to make tough decisions at the cash register, too. "If the price keeps going up we have to learn how to improvise and do things on sale," said Gwendalo Perkins, who cares for her two grandchildren. "We didn't get a raise and food's going up, everything's going up." Basic staples are rising the fastest, like milk, beef, coffee and cereal, which rose 5 percent in the last few months alone. Kaufman warned there's a direct link between the sky rocketing cost of food and Wall Street, particularly Goldman Sachs who own major shares of food commodities."Imaginary wheat being bought and sold by financial giants is controlling the price of real wheat," he said. "So who's winning? You got it. Goldman Sachs, JP Morgan Chase—the largest holders, the largest dealers in this, they're doing very well."As the US pushes producers to convert corn crops to ethanol, the crisis deepens around the world. Demand for biofuels has tripled over the past six years, and is expected to triple again by 2020. "The growing demand for biofuels is almost doubling the challenge of increasing the amount of food we have to produce for people. Farmers are having a tough time keeping up and at least until they can catch up, the situation is ripe for these kinds of catastrophic price increases," said Tim Searchinger, a research scholar at Princeton University. President Barack Obama's 2012 budget, announced this week, will amount to $13.9 billion in cuts to food stamp programs over the next three years for the neediest Americans. The average family of four on food stamp assistance will receive $59 less per month. But Americans aren't as eager to push frustrations from the grocery aisles to the streets, said DC resident William Owens. "For Americans to do that it would take a whole lot, we haven't gotten sick and tired of being sick and tired yet. But when we get there we'll do it," said Owens. Ylan Mui, a staff writer from the Washington Post explained Americans face the possibility of commodity prices driving up consumer prices. Right now, Americans pay lower prices than many others in the world; however the rise will be noticeable on the pocketbook. "We are at a time when consumers are just coming out of the recession, they are trying to balance their budgets," Mui said. A primary worry is the connection between food prices and poverty. "Higher food prices creates greater poverty," she explained. "That's something that is a concern for leaders access the world."Additionally, she explained it is not just banks buying and driving up commodities, governments contribute too. Like companies, they work to lock in and hedge their bets to try and control prices.
You can share this story on social media: