Fury at 'affluenza' excuse for drink driving teen who killed four but avoided jail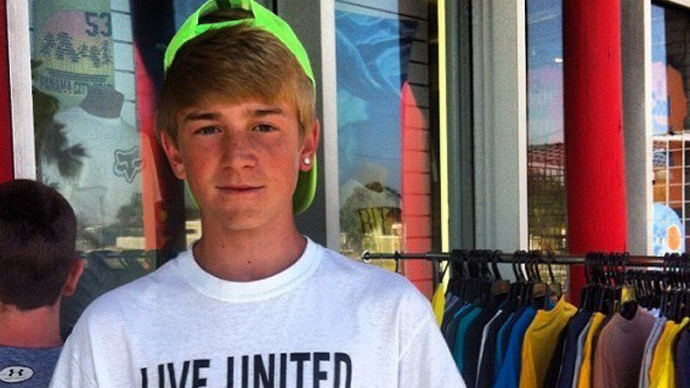 A judge's decision to save a wealthy Texas teen from a 20-year sentence for killing four people and injuring two others due to drunk driving has sparked public outrage. Affluenza helped 16-year-old Ethan Couch get away with 10 years' probation.
Along with family members of the victims of the fatal accident, thousands have been stunned by the court decision, granting Ethan Couch a surprisingly mild sentence.
Teen gets off for being "too wealthy", This is an example of how the 1% wins in the criminal justice system.... http://t.co/sU1MHNBh3u

— Occupy Wall Street (@OccupyWallSt) December 12, 2013
Eric Boyles, who lost his wife and daughter in the crash also believes it was Couch's wealth that helped him escape prison.
"Ultimately today, I felt that money did prevail," he told the Star-Telegram. "If [he] had been any other youth, I feel like the circumstances would have been different."
A psychologist testified in Couch's trial in a Fort Worth juvenile court that the boy, who had admitted his guilt in four cases of intoxication-aggravated manslaughter in the June accident, was actually suffering from so-called "affluenza". For this particular "reason", Couch should not be sent to prison, psychologist Gary Miller insisted.
Did USA just give get-out-of-jail card to all the rich? 'Affluenza' defense earns Ethan Couch probation in fatal DUI http://t.co/Gmk0x1PMFn

— Robert Fransgaard (@fransgaard) December 13, 2013
Some experts have never heard of "affluenza"; those who did argue it's not a recognized diagnosis and should not be used to justify bad behavior.
"The concept that I did something because I'm rich and spoiled doesn't look like a good causation," Richard Segura, a supervising attorney at the University of Texas at Austin's Criminal Defense Clinic, told the AP. "It doesn't sound like something that would ameliorate the punishment."
The term, used to describe a condition in which family wealth will also buy you privilege, emerged in the late 1990s, created by Jessie O'Neill, the granddaughter of a past president of General Motors, when she wrote her book "The Golden Ghetto: The Psychology of Affluence."
Dr. Gary Buffone, a psychologist who specializes in family wealth counseling told AP that a better term for someone with affluenza would be a "spoiled brat".
Couch admitted to being drunk when he lost control of his father's Ford F-350 pickup, carrying seven passengers. The group of friends was earlier seen on surveillance video stealing two cases of beer from a store. The Texas teen had a blood-alcohol level three times the legal limit, as well as traces of valium in his system, according to testimony. His truck slammed into the four pedestrians, killing Brian Jennings, 43, Breanna Mitchell, 24, Shelby Boyles, 21, and her mother, Hollie Boyles, 52.
Imagine killing four people and getting sentenced to cooking classes, yoga, and meditation. That's how #EthanCouch will be punished.

— Eric Haywood (@Eric_Haywood) December 13, 2013
District Judge Jean Boyd handed down his sentence on Tuesday after three days of testimony from witnesses, victims' family members, investigators and experts.
He ordered the 16-year-old to receive therapy at a long-term, in-patient facility. The teen's parents would pay for the therapy at a rehabilitation facility in California, costing $450,000 a year.
"Essentially what he [the judge] has done is slapped this child on the wrist for what is obviously a very serious offense which he would be responsible for in any other situation," Buffone said. "The defense is laughable, the disposition is horrifying ... not only haven't the parents set any consequences, but it's being reinforced by the judge's actions."
According to his psychologist, Couch's parents had a volatile relationship and a contentious divorce, and their son's emotional age was 12. He told the judge the "teen never learned to say that you're sorry if you hurt someone. If you hurt someone, you sent him money," the Fort Worth Star-Telegram reported.
Ethan Couch Gets No Jail Time After Killing 4 People. But What If He Were Latino? http://t.co/W62HqKX6na

— BeingLatino (@beinglatino) December 13, 2013
Another psychologist told AP that according to her research at Columbia University 20 percent of upper middle-class adolescents were sure their parents would help them get out of trouble.
"What is the likelihood if this was an African-American, inner-city kid that grew up in a violent neighborhood to a single mother who is addicted to crack and he was caught two or three times ... what is the likelihood that the judge would excuse his behavior and let him off because of how he was raised?" Dr. Suniya Luthar wondered.
"We are setting a double standard for the rich and poor," she added, so "families that have money, you can drink and drive. This is a very, very dangerous thing we're telling our children."
You can share this story on social media: