Rescuers face dangerous toxins in Washington state mudslide recovery operation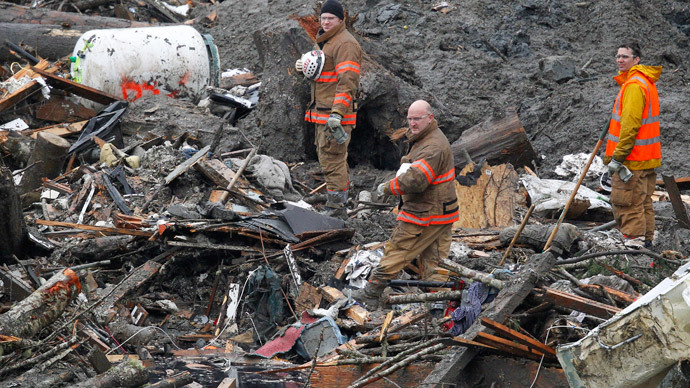 While falling rain has already complicated the search for survivors in Washington state's devastating mudslide, another obstacle has presented itself in the form of potentially dangerous chemicals and sewage.
Rescue crews continued their search for survivors on Monday in Oso, Washington, digging through 15 – 75 feet of mud that houses wrecked propane and gas containers, septic tanks, and other household chemicals that could pose a threat to workers and any remaining survivors.
According to the AP, the official death toll has now climbed to 24, with seventeen of these bodies positively identified by authorities as of Monday afternoon.
Meanwhile, 30 people remain missing, a sharp decrease from the 176 potentially unaccounted for as of last week. As RT reported then, officials cautioned they may have double counted some individuals, while others had yet to inform their families of their whereabouts.
The landslide, which occurred on March 22, is one of the deadliest such disasters in US history. The incident began when a nearby hillside collapsed, flowing over a river and burying about 30 houses, cars, and other things beneath waves of mud and dirt.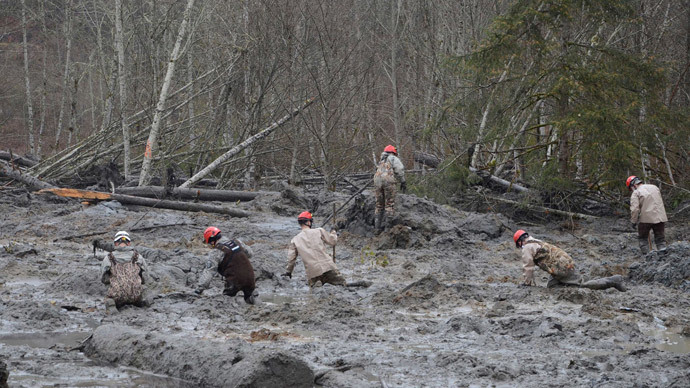 As search efforts continue, officials have become noticeably concerned with the prospect of workers being contaminated by chemicals released during the mudslide. According to the Associated Press, rescue workers and dogs are all checked for and cleaned of hazardous material before leaving the site.
"We're worried about dysentery, we're worried about tetanus, we're worried about contamination," local fire Lieutenant Richard Burke, told the AP. "The last thing we want to do is take any of these contaminants out of here and take them into town, back to our families."
"This is going to be a hazardous materials site for many years while we try to get this cleaned up," he added to Reuters.
Despite the ongoing rescue effort, officials said some victims may never be recovered from the mud, and that they may not be able to account for those who remain missing.
"We're looking for that miracle right now," Governor Jay Inslee told Reuters. "If we don't find that miracle, [relatives are] also looking for the knowledge of the fate of their loved ones."