US in jeopardy? Republicans block Hagel's appointment as Defense Sec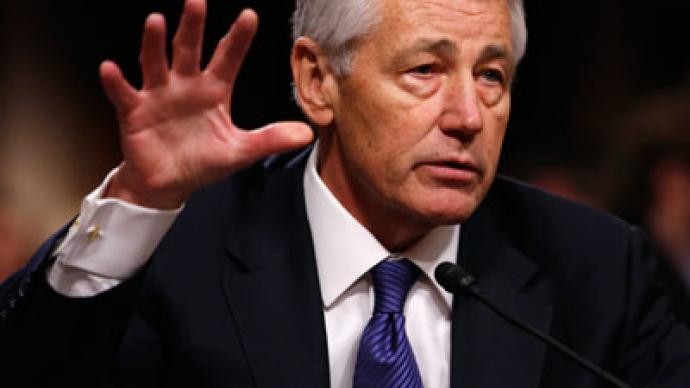 Republican lawmakers have delayed a vote on Chuck Hagel's candidacy defense secretary, defying President Obama's nomination. Democrats decried the Republicans as jeopardizing US national security by delaying Hagel's appointment.
In a near-party-line vote, a majority of Republicans moved to filibuster Hagel's nomination. The vote tallied 58 in favor to 40 opposed, falling just short of the 60 votes necessary to escape a filibuster and move Hagel's nomination through the Senate for final approval.Republicans justified their decision by saying they required the release of further information on the September 2012 attack on the US diplomatic mission in Benghazi. The Republican move was met with fury by Democrats, who slammed it as "tragic," and an attempt to obstruct the political process. It was the first time this political tactic had been used to delay the appointment of a US Defense Secretary."Senate Republicans have made it clear they intend to mount a full-scale filibuster, and block the Senate from holding a final passage vote on Senator Hagel's nomination," Senate Majority Leader Harry Reid said while addressing the Senate after the vote. He stressed that Republicans were embarking on an attempt at "filibustering while submitting extraneous requests that will never be satisfied."President Obama echoed the anti-Republican sentiment in a question-and-answer session organized by Google+, in which he expressed regret that the politics of the vote "intrudes at a time when I'm still presiding over a war in Afghanistan.""My expectation and hope is that Chuck Hagel, who richly deserves to get a vote on the floor of the Senate, will be confirmed as our defense secretary," Obama said.Since President Obama announced ex-Republican Senator Chuck Hagel as his nominee for Secretary of Defense, the Republican Party has been up in arms over his nomination. The Vietnam veteran is a known anti-war activist, and had previously clashed with Republican lawmakers over his criticism of the "Jewish lobby" in Washington, and for refusing to push for a strike against Iran.Additionally, his performance at his confirmation hearing raised doubts over his nomination. Critics said that Hagel reacted poorly under aggressive questioning, and appeared unprepared at times.Hagel severed his links with the Republican Party over ex-President George W. Bush's handling of the Iraq War, angering many party members.Despite being known as an anti-war advocate, since his nomination, Hagel has made warmongering remarks such as claiming the US should be prepared for a possible strike on Iran. He also stressed the importance of the US-Israel relationship, contradicting his previous opposition to Washington's "Jewish lobby."This about-face in policy has led to confusion amongst US lawmakers, as well as speculation that he may be pandering to his former Republican colleagues.
You can share this story on social media: