GOP presidential hopeful calls for Afghan withdrawal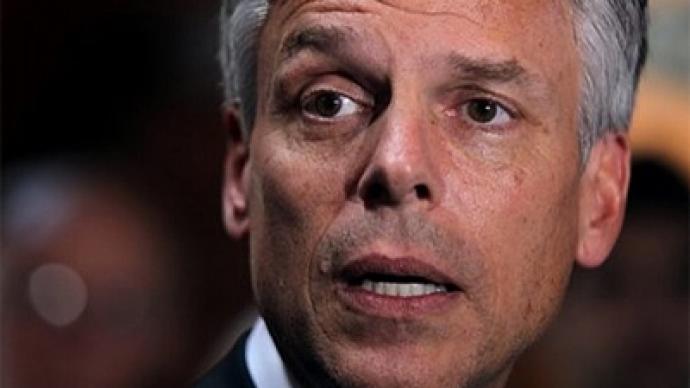 Former Obama ambassador to China and potential Republican presidential candidate John Huntsman has joined other prominent Republicans and Democrats in criticizing Obama's Afghan strategy.
"In terms of foreign policy, we have a generational opportunity, George, to reset our position in the world," Huntsman told George Stephanopoulos on "Good Morning America." "And it must be done based upon our deployments in all corners of the world, wherever we find ourselves, how affordable those deployments are, whether it's a good use of our young men and women. Whether it's in our core national security and interest. We're fighting an enemy that is far different than any we have got before. It's a nontraditional kind of war, and I think we need to step back, recalibrate how we go about protecting our borders and protecting our people, and resetting our position in the world."Huntsman did not clarify specifics, such as an exact withdrawal date but he was notably skeptical of maintaining a long-term US presence in Afghanistan. "I would tell you that we have to evaluate very carefully our presence in Afghanistan," he said. "And my inclination would be to say that it is a heavy and very expensive presence we have on the ground. That at a point in time where we need to be looking at our asymmetrical threats, what we have in Afghanistan today is not consistent with how we ought to be responding."The former ambassador and former governor of Utah has previously called a withdraw of US troops inevitable. "The deployments are mighty expensive," he said. "We've got to ensure that going forward into our new world that we have a foreign policy that is an extension of our core national interests. And does that mean that we're going to have to look at the map at some point and reset our level of engagement and our deployments in some corners of the world. Absolutely it does."He noted that an early withdraw would likely leave Afghanistan in a state of conflict and civil war, but there was little that could be done to contain that. Huntsman joins others, like Republicans Ron Paul, Mike Huckabee and Haley Barbour who have actively criticized the ongoing US mission in Afghanistan. There has been a noticeable increase in Republican opposition to the Afghanistan strategy and a rise in comments from presidential hopefuls.
You can share this story on social media: