Rape victim sues Massachusetts for forcing her into relationship with attacker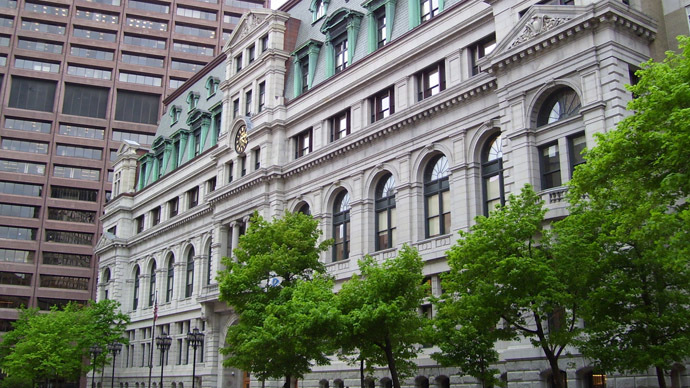 A rape victim is suing the Commonwealth of Massachusetts for forcing her to maintain a 16-year legal relationship with her rapist, who impregnated her and is now seeking paternity rights over the child.
In 2009, 20-year-old Jamie Melendez raped a 14-year-old middle school student when she was home alone in Norwood, Mass. The girl, who is referred to as "H.T." in court documents, said she felt threatened and intimidated by the man. As a result of the rape, she became pregnant and gave birth to a child, which forced her mother to quit her job to stay home and take care of it. Melendez pleaded guilty to the rape in 2011 and was sentenced to 16 years probation.
But Massachusetts Judge Thomas McGuire also ruled that Melendez would be required to go to family court for the next 16 years, where he would pay the victim $110 a week in child support. Now, the convicted rapist is arguing that if he is paying child support, he should also receive visitation rights to see the child, according to documents obtained by Courthouse News.
"I learned that the judge ordered a rapist to go off to Family Court and pay child support, which is pretty outrageous – in a sense it decriminalizes the behavior, or frames it other than a serious crime – I got on board and filed a motion to reverse the judge's order," criminal attorney Wendy Murphy, who is representing the rape victim, told ABC News.
"My client is very worried she'll have to send her daughter off to this man she doesn't know, and tell her she'll be going off on visits with the man who raped her mother and created her," she added. "We're fiercely fighting against concept of even being in family court."
 If Melendez pays child support, he has the right to request visitation, involvement in the child's education, and influence where the child lives, the lawyer noted. If the victim fails to show up at any of the family court dates scheduled over the next 16 years, she risks losing custody of her own child. Rapists are allowed to sue for child custody in 31 states, including Massachusetts. The victim wants no involvement with Melendez, and previously requested that the rapist pay criminal restitution instead of child support. Both the Massachusetts Supreme Judicial Court and the family court denied her request.
The victim, who just graduated high school, never sought to prosecute Melendez, and is focused only on breaking off legal ties between them. In her lawsuit, H.T. argues that the court order against Melendez violates her federal rights by binding her to an unwanted relationship.
"Through this action, the plaintiff requests that she be liberated from a state court order that not only imposes unlawfully on her liberty for 16 years, but also obligates her with the unwanted and inappropriate responsibility for ensuring Melendez's compliance with the conditions of his probation; an obligation that should rest exclusively with state officials," the complaint states.
The lawsuit notes that 35,000 babies are born in the US as a result of rape every year, and no state court has ever issued an order that would force that kind of a legal relationship between the rapist and the victim.
The Melendez case has prompted a group of Massachusetts lawmakers to sponsor bills that would take away all custody and visitation rights for rapists, even if they pay child support. State Rep. Keiko Orrall (D-Lakeville) filed a bill that would terminate all legal relationships between a rapist and the child conceived during the attack. The bill currently has 13 co-sponsors, the Patriot-Ledger reports. 
"Our hope is that survivors of rape and sexual violence can have as much control over what happens to them as possible, and this is one step in that direction," said Meg Bossong, manager of community at the Boston Area Rape Crisis Center. "…There should be some thoughts about how the issue of child support can be addressed."
You can share this story on social media: