Rand Paul threatens to stop nomination of Yellen until Senate votes on 'Audit the Fed' bill
Adamant Federal Reserve opponent Sen. Rand Paul (R-Kentucky) says he will put a hold on Janet Yellen's nomination to head the central bank, insisting that a bill of his that would audit the Fed be considered by Congress first.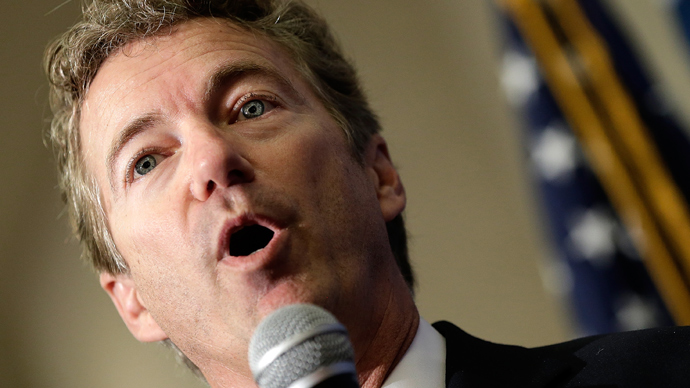 United States President Barack Obama said earlier this month that he had chosen Yellen, the 67-year-old vice chair of the Board of Governors of the Federal Reserve System, to replace current Fed Chairman Ben Bernanke when his term shortly expires. On Tuesday this week, however, Sen. Paul said he would make an effort to halt her nomination in an attempt to force his colleagues to consider potential legislation that would limit what the central bank does on its own.
"As the Senate debates the nomination of the next head of the Federal Reserve, there is no more appropriate time to provide Congress with additional oversight and scrutiny of the actions and decisions of the central bank," Paul wrote in a letter to Senate Majority Leader Harry Reid (D-Nevada) penned this week.
"
Therefore
," Paul continues, "
I request that my bipartisan legislation, S. 209, the Federal Reserve Transparency Act, be scheduled for an up or down vote concurrently with the Yellen nomination
."
Paul and his father, the recently-retired Rep. Ron Paul (R-Texas), have both long championed for reforming the Fed. Only in recent time, however, has that sentiment been seen elsewhere in Washington. The senator from Kentucky now says the time is opportune to consider a bill that would provide extra oversight with regards to the Fed's policies, and indeed a House version of the bill passed last year by a vote of 327-to-98.
"We've been waiting two years on a vote on the Audit the Fed Bill. It passed overwhelmingly in the House and we'd be happy to lift the hold if we do get a vote," Paul said.
Sen. Paul says he will put a hold on Yellen's nomination if necessary to have his bill brought up in his chamber ahead of her otherwise likely appointment, but Federal Reserve insiders oppose the act he's drafted up. Mr. Bernanke said previously that a plan drafted by Rep. Paul was a "nightmare scenario" and would have allowed lawmakers to put pressure on the Fed — an otherwise neutral and uninfluenced agency — to enact certain policy.
"The American people have a right to know what this institution is doing with the nation's money supply," Paul said in a statement this week. "The Federal Reserve does not need prolonged secrecy — it needs to be audited, and my bipartisan Federal Reserve Transparency Act will do just that."
An aide for a Senate Democrat told Politico on condition of anonymity that Paul's plan "doesn't seem very well thought out" and appeared to be a mere "publicity stunt." If history is any indication, though, the Kentucky senator has every intention of following through with his threat. Earlier this year, a marathon filibuster waged in Washington by Paul significantly delayed the nomination of Obama's pick to head the Central Intelligence Agency and drew international towards the administration's controversial drone program.
You can share this story on social media: