White House admits censoring news on the Obama family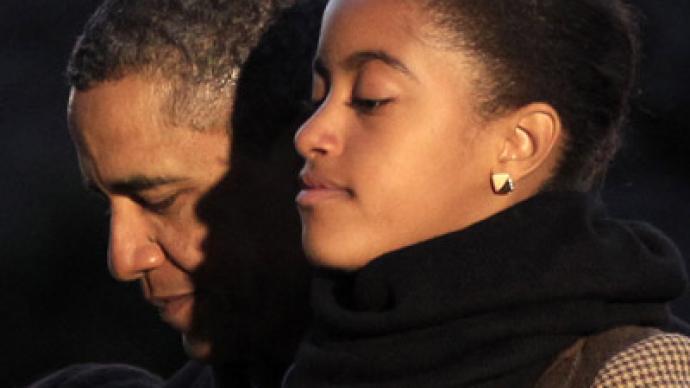 President Obama had no problem sending his 13-year-old daughter on Spring Break to Mexico, notoriously known for teenagers partying and getting wasted on time away from school. The problem he had though was with the media reporting it.
On Monday reports by The Huffington Post, Yahoo, and the International Business Times, to name a few, were asked to nix their publications of Obama's daughter's school trip to the drug cartel infested country.Malia and twelve classmates, who were accompanied by 25 Secret Service agents, set-off to Oaxaca, Mexico this past Saturday.The White House has confirmed the First Family has requested news organization to remove stories of Malia Obama's escapades south of the border.In an email directed to Dylan Byers of Politico.com, Kristina Schake, Communications Director to the First Lady, said "from the beginning of the administration, the White House has asked news outlets not to report on or photograph the Obama children when they are not with their parents and there is no vital news interest. We have reminded outlets of this request in order to protect the privacy and security of these girls."Regardless of the effort to suppress the story, it seems one site has been able to escape the jaws of censorship.The Gazette, a Montreal based publication is allegedly the only site still standing reporting on the sightseeing trip.Now of course this has some Obama critics talking about the recent excursion.On Tuesday, Rick Santorum responded to the news on Glenn Beck's program and according to Santorum, the president should be "leading by example.""If the administration is saying that it's not safe to have people down there, then just because you can send 25 Secret Service agents doesn't mean you should do it," Santorum said."What I would say is that the president's actions should reflect what his administration is saying," Santorum added.According to the US Department of State's website, "the Department of State has issued this Travel Warning to inform US citizens about the security situation in Mexico. Millions of US citizens safely visit Mexico each year for study, tourism, and business, including more than 150,000 who cross the border every day. The Mexican government makes a considerable effort to protect US citizens and other visitors to major tourist destinations, and there is no evidence that Transnational Criminal Organizations have targeted US visitors and residents based on their nationality.  Resort areas and tourist destinations in Mexico generally do not see the levels of drug-related violence and crime reported in the border region and in areas along major trafficking routes."Nevertheless the site warns that American tourists should be aware of their surroundings and admits that "crime and violence are serious problems throughout the country and can occur anywhere."Despite the US Department of State's awareness to "the rising number of kidnappings and disappearances throughout Mexico" and reports of US citizens being "trapped and temporarily prevented from leaving the area," it seems President Obama allowing his 13-year-old daughter to vacation among all the violence was another "audacious" move even though Oaxaca had no warnings in affect.
You can share this story on social media: