After losing presidential bid, Michelle Bachmann becomes a Swiss citizen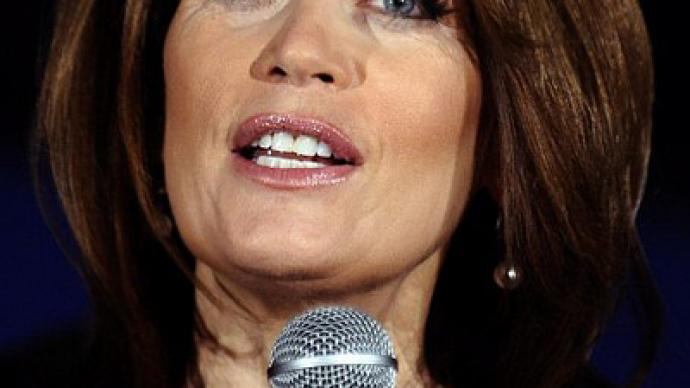 How do you convince Americans that you are the best fit to represent them in the US Congress? There might be a lot of ways to answer that, but, whatever you do, don't ask Michele Bachmann.
The three-term congresswoman from Minnesota and former GOP presidential contender has been campaigning as of late with hopes of being elected once again to the US House of Representatives. She managed to put local politics aside for a moment, though, and recently took time out of her busy schedule do something uncharacteristically un-American. The God-fearing, flag-waving, adopted daughter of Uncle Sam recently applied for citizenship in Switzerland.Bachmann's office confirmed that the congresswoman is now officially a Swiss citizen, CNN reports.Since her spouse, Marcus Bachmann, is of Swiss descent, the congresswoman has been able to seek dual-citizenship since they married in 1978. It was only recently, however, that Rep. Bachmann bit the bullet and finally filed for dual-citizenship.Addressing allegations from fellow lawmaker Ron Paul that she "hates Muslims," last year Bachmann boasted about her appreciation for the US and its citizens."I love Americans and want to make sure that as commander in chief, I will keep America free, safe and sovereign," she told television host Jay Leno in December.Now Becky Rogness, a spokesperson for the congresswoman, says though that some of the Bachmann children "wanted to exercise their eligibility for dual-citizenship," so the family went about applying for the status all at the same time.Now the Minnesota rep can run for office abroad — but will she?When asked by Swiss TV if she would consider pursuing politics outside of America, the congresswoman joked, "there's a lot of competition … and they're very good."Regardless of what route she takes, the congresswoman may have very well been motivated by the own ridiculous rhetoric that she spewed while trying to win a chance at the White House. Speaking with Christian radio host Jay Sekulow last August, Bachmann rationalized poor economy figures by saying, "What people recognize is that there's a fear that the United States is in an unstoppable decline."At the time, Bachmann added that the rise of competition overseas was causing Americans to be concerned about the future of the country. Among those nations causing worry, she said, was the Soviet Union.
You can share this story on social media: