Predator drones to start operations over North Dakota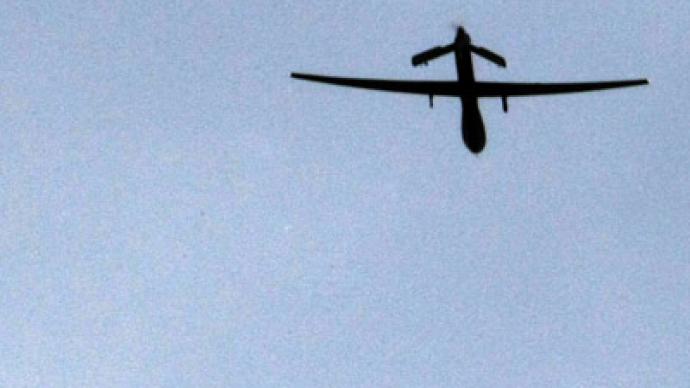 The FAA has authorized the use of remote-controlled Predator drones in the airspace above nearly 10,000 acres in North Dakota. As of this fall, unmanned military aircraft will use lasers to aim at ground targets from nearly 2 miles above the earth.
Grand Forks, North Dakota — the third largest city in the state — will host a domestic training facility for the military's unmanned aerial vehicles starting in October. Several times a week pilots will remotely guide robotic drones through the sky at altitudes as high of 9,999 feet above sea level and zone in on ground targets with the use of dangerous lasers."People may hear airplanes flying above, but there will be no lights visible and no explosions," Col. Rick Gibney, commander of the 119th Wing of the North Dakota Air National Guard, tells the Grand Forks Herald. The lasers the drones will be equipped with are reported by the Herald to help pilots practice on designating targets for bombing and missile launching missions overseas. Gibney adds that the site at Camp Grafton will allow pilots to have real-world training instead of relying on flight simulators to learn the basics of drone operation. And while he doesn't expect for the base to be flooded with flights anytime soon, he says operations will increase over time, especially on an as-needed basis."A lot of it will be dependent on real-world situations," he tells the Herald.Meanwhile, the FAA says that traditional airplanes will continue to fly through the airspace, with around four flights currently traveling through the area each day. Gibney doesn't expect that to be a problem though, because in other training grounds, such as other drone-licensed parts of Nevada and California,"There's a lot of other aircraft in those areas, and a lot of commercial aircraft around those areas."Given the limited but still substantial amount of traffic in and around the airspace, opponents of the drone training ground are asking for more oversight into how the planes will behave come this fall. Specifically, some have raised questions about the dangers that could come from the lasers utilized by Predator drone pilots."Since the MQ–1 Predator [UAS] laser is non-eye safe and will be used during training sorties flown by the military, its use constitutes a hazardous activity that must be confined within restricted area airspace to protect nonparticipating aircraft," the latest FAA regulations read.Additionally, the Aircraft Owners and Pilots Association are arguing that the use of the lasers, if not properly announced to pilots ahead of time, could put their flights in grave danger. The Electronic Frontier Foundation estimates that the number of domestic drones in the US will be 30,000 by the end of this decade. The Federal Aviation Administration is drafting ground rules right now that will lay out operation standards for UAVs in America, but some critics have suggested that the rate at which the US is accelerating its drone program is outstanding, citing concerns over both safety and privacy.Within the last month, a military drone crashed during a routine training mission just outside of Washington, D.C. Days later, a professor at the University of Texas at Austin showed the US Department of Homeland Security that he was able to essentially hijack a drone using less than $1,000 in parts. On Wednesday, Homeland Security Secretary Janet Napolitano said that the state of California is currently considering using surveillance drones as a means of proactively monitoring suspicious activity on the ground on the basis of "public safety" issues. At a recent lecture on domestic drones given by the EFF at New York City's Hackers on Planet Earth Conference, Timm and fellow activist Parker Higgins said during a presentation that some surveillance UAVs "can zoom in and read a milk carton from 60,000 feet" off the ground.
You can share this story on social media: