Would-be bomber's sentencing delayed due to warrantless wiretap-obtained evidence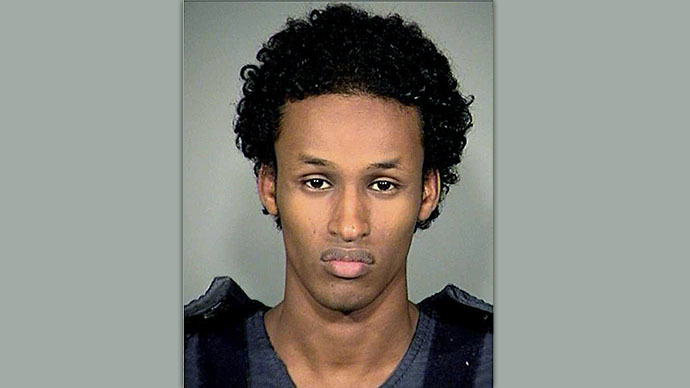 A federal judge has indefinitely halted a sentencing hearing previously scheduled for next month after prosecutors admitted last week that they presented in court evidence obtained through the controversial Foreign Intelligence Surveillance Act.
Judge Garr M. King for the United States District Court for the District of Oregon ruled on Tuesday that the December 18 sentencing hearing for convicted would-be bomber Mohamed Osman Mohamud, 22, must be stricken following revelations made just days earlier by the federal prosecutors who earlier this year won a guilty conviction against the Somali-American man.
The prosecution had filed a notice with the court last Tuesday, November 19, acknowledging for the first time that intelligence collected through a FISA-authorized warrantless wiretap was "offered into evidence or otherwise used or disclosed in proceedings," which concluded this past January when a jury found Mohamud guilty of attempting to use a weapon of mass destruction.

Prosecutors said Mohamud, then only 19, intended to blow-up an annual Christmas tree lighting ceremony in Portland, Oregon in 2010, but they thwarted him by conducting a months' long investigation that culminated in a sting where authorities supplied their suspect with a phony bomb. He was scheduled to be sentenced next month and is eligible for life in prison, but the recent revelation regarding the government's use of FISA to collect information may have indefinitely delayed the outcome of the case.
According to Judge King's determination this week, the court anticipates motions to be filed due to the government's acknowledgment that FISA provisions were utilized during their investigation, a maneuver that is expected to drag the case well into next spring. King ordered that next month's sentencing hearing be stricken and, "if sentencing remains appropriate," both sides have until April 4, 2014 to file motions. Assuming other motions will then be filed in response, the court expects the next phase of the already lengthy ordeal to last through May.
Judge King's decision came three years to the day after authorities arrested Mohamud and accused him of using a fake car bomb to wreak havoc in Portland. Arthur Balizan, the Federal Bureau of Investigation's special agent in charge of the sting, said in a statement released after the arrest that "the threat was real," but the explosives were not. Now three years later, critics of FISA and the controversial authorities it provides to investigators, may reconsider if the Mohamud's conviction is real.
NPR reporter Carrie Johnson said the decision to prolong the pre-sentencing phase "could foreshadow months or even years of legal wrangling, if the case becomes a vehicle to challenge the constitutionality of once-secret NSA monitoring of overseas email and social media accounts." Indeed, the National Security Agency's reliance on FISA as a counterterrorism tool has long been opposed by the likes of the American Civil Liberty Union and other like-minded groups who have branded the secretive court as nothing more than a rubber-stamp to approve broad, otherwise unlawful probes. Recently disclosed NSA documents attributed to former contractor Edward Snowden, however, have revealed this year exactly how widely the government relies on FISA to gather information on people, innocent or guilty.
"The Supreme Court this year turned back a challenge to surveillance law by a group of human rights workers, lawyers and reporters because they could not demonstrate they had been monitored or subjected to any harm," Johnson wrote, "But the fresh disclosure to Mohamud and a series of other defendants in cases where US prosecutors used secret surveillance could help overcome that hurdle."
You can share this story on social media: