Popcorn Time, a new streaming BitTorrent site, takes on Netflix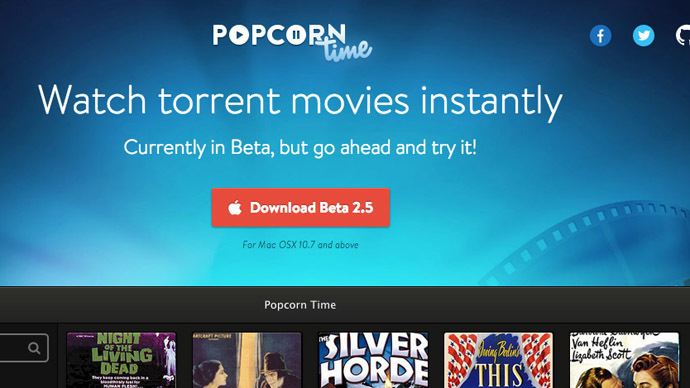 A new torrent application that allows users to stream Hollywood movies to various devices has been advertised as a free, possibly illegal challenger to Netflix, although its success depends on whether casual downloaders are willing to take the plunge.
Popcorn Time - a new BitTorrent-powered app available on Windows, Mac, and Linux – uses the same technology that has made sites like The Pirate Bay and Kick Ass torrents so popular. To successfully download a torrent file, a user must connect with others users known as seeds and leechers and pay attention to their upload ratio, all while hoping that they have not downloaded a corrupt file or been tracked by copyright enforcers.
Aware of this complexity but hoping to keep BitTorrent alive, a developer known only as Sebastian told TorrentFreak's Ernesto that he set out to take Netflix's streaming technology and adapt it to the black market movie audience.
Popcorn Time essentially does the work that a movie pirate already does for them. They select a movie to download and, instead of checking when the download is complete or playing a video back through an app like uTorrent, Popcorn Time simply opens its own media player while seeding the file in the background.
"The technology behind the app is very simple," Sebastian told the website from his home in Buenos Aires, Argentina. "We consume a group of APIs, one for the torrents, another for the movie info, and another for the poster. We also have an API for the subtitles. Everything is automated, we don't host anything, but take existing information and put it together."
The developers have cautioned that Popcorn Time is still in beta mode, causing some video playback to appear blotchy and audio to sometimes play out of sync. That disappointment may be tapered by the sheer size of Popcorn Time's library, which includes films like "Dallas Buyers Club," "Gravity," and a number of others that have yet to reach sites like Netflix or Hulu.
Alex Tretbar, a writer for DigitalTrends.com, downloaded the software and admitted that while it is clearly in beta mode, Popcorn Time was a pleasant surprise.
"As a quick quality test, we downloaded the software and booted up the recently-released 'Thor: The Dark World.' Surprisingly, within 10 minutes of dialing in the Popcorn Time URL and downloading the needed software, we already had a 1080p copy of the film running beautifully (considering the quickness with which the program operates), with much of the film on the way to being entirely buffered. The movie had an impressive array of eight available subtitle language options," he wrote.
"The interface is extremely straightforward, with a Netflix instant queue-style quilt of film cover art popping up upon startup. The only other visual aspect is along the left-hand side – a fairly comprehensive genre list with categories ranging from Animation and Biography to Film-Noir and Fantasy, and a search field."
The problem is that sharing copyrighted content is illegal. While all users may not be aware, a stipulation on Popcorn Time's FAQ does indicate that a customer is in fact uploading a movie at the same time they are watching it. Hollywood executives, copyright enforcers, and law enforcement officials have spent well over a decade in pursuit of violators, and uploading content is widely considered to be one of the riskiest online behaviors a person can engage in.
Sebastian told TorrentFreak the software developers are not concerned.
"We don't expect legal issues. We don't host anything, and none of the developers makes any money," he said. "There are no ads, no premium accounts, and no subscription fees or anything like that. It's an experiment to learn and share."
If Popcorn Time will ever catch on with the public remains to be seen, but the startup must already consider its stiff competition. Last year Netflix CEO Reed Hastings told reporters that piracy has dropped by 50 percent in Canada since the service was made available there.
"Netflix is so much easier that torrenting," he said, as quoted by TorrentFreak. "You don't have to deal with files, you don't have to download them and move them around. You just click and watch."
If the case of DVDFab is any indication, Netflix's dominance may be Popcorn Time's smallest concern. The service specializes in removing copyright protection from DVDs and helping users rip them to their computer, where the contents of the disc may go online or to another DVD. Yet a New York federal court has ruled that the company must turnover several of its domain names, bank funds, and social media accounts to the government.
AACS, a group founded by Warner Bros, Disney, Microsoft, and other entertainment players, convinced a judge to grant a broad injunction that may also apply in court proceedings against a torrent streaming service like Popcorn Time.
"The DVDFab Group openly touts these illegal circumvention attributes of the DVDFab Software on the DVDFab websites, advertising that, among other things, its software products 'remove all Blu-ray copy protections,' and 'can remove…all known AACS copy protections,'" AACS wrote, as quoted by Torrent Freak.
You can share this story on social media: