Poll: Majority wants collective bargaining back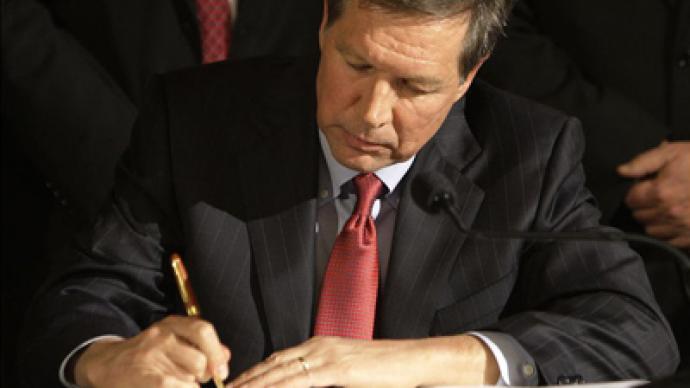 A new Quinnipiac poll indicates that most Ohio voters overwhelmingly do not support a law signed by Republican Governor John Kasich that restricted public union's collective bargaining rights. Many feel the law should be replaced.
The poll showed 54 percent of respondents opposed of law while a mere 36 percent supported it. This is important news because the law is set for a voter referendum in November. If these results are dependable, it is likely that the union-busting bill will be repealed. The law, passed two months ago, made it illegal for public state workers to strike and stripped away the bulk of the union's collective bargaining rights. The law covers all public union workers, from teachers to firefighters and even law enforcement workers.A majority of voters indicated a disapproval of the law as a whole, and also specifically the restrictions on collective bargaining and the elimination of the right to strike as individual elements of the law. The law has been so unpopular it has almost single handedly driven Kasich's approval rating down. The poll revealed 49 percent of voters now disapprove of his overall job performance. Additional polls have shown the governor losing a reelection by a 15 percentage point margin.
You can share this story on social media: