LA residents to police: Don't shoot, we're not Dorner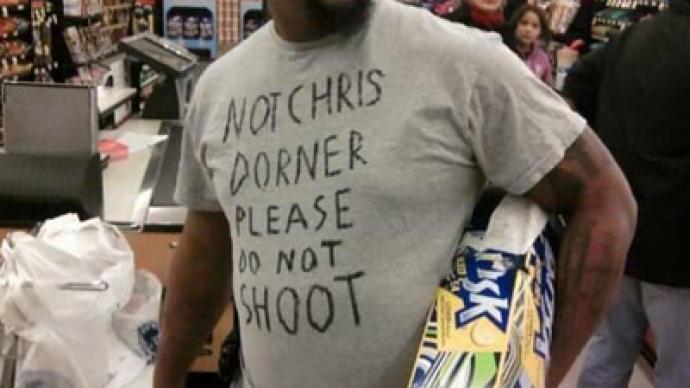 After three Californians were nearly killed this week by police officers opening fire at people mistaken for suspected murderer Chris Dorner, a solution may finally stop the shootings. And no, the cops haven't caught the killer.
In the wake of three recent extreme cases of mistaken identity, some entrepreneurial Internet users have designed merchandise that sends a strong message to the police. "Don't Shoot, I'm Not Chris Dorner" bumper stickers and t-shirts are now being sold on the Web while investigators intensify their manhunt for the suspected killer, a mission that continues to elude authorities and has led officers to so far shooting three people during their search.
Dorner, a 33 year-old former Los Angeles Police Department officer and US Navy reservist, has been charged in the February 7 killing of Riverside, CA Officer Michael Crain and is wanted in connection with a string of related crimes. Authorities also believe he may be linked to a February 3 double-murder in nearby Irvine, but Dorner has managed to elude police in the days since.
On February 8, officers with the LAPD opened fire at two Hispanic women, ages 47 and 71, who were delivering newspapers in the early morning hours when their vehicle was mistaken for Dorner's pickup truck. Hours later, police in nearby Torrance aimed at a similar vehicle being driven by David Perdue, a white male who had been questioned by authorities moments earlier regarding his automobile.
"I don't want to use the word buffoonery but it really is unbridled police lawlessness," Perdue's attorney, Robert Sheahen, told the Los Angeles Times. "These people need training and they need restraint."
Budgetary woes might keep the LAPD from buying any new rounds of training for the department, but meanwhile apparel and other items sold online says all that any California resident can really warn the police for now: No, I'm not Chris Dorner.
In addition to an array of t-shirts and bumper stickers being sold on eBay and other websites, homemade items have also been spotted across LA, including hand-drawn signs placed on pickup trucks that may or may not easily be mistaken for Dorner's. But for those that lack the enthusiasm and ingenuity to do-it-themselves, "Don't Shoot, I'm Not Dorner" window decals are retailing on the online auction house for around $12. Those with more elaborate plans might need to increase their PayPal balance, though: a series of domain names relating to Mr. Dorner and the LAPD-led manhunt for him are being offered on eBay for $5,000 each.
You can share this story on social media: