LAPD illegally sold police guns, claims veteran officer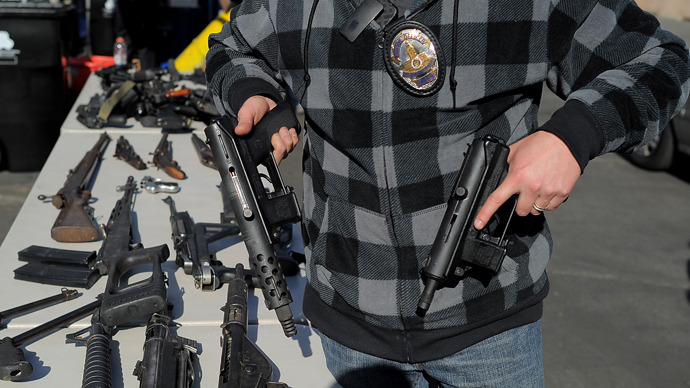 A longtime member of the Los Angeles Police Department is suing the LAPD because he says other officer retaliated against him after he blew the whistle on an illegal gun-selling ring within the force.
Armando Perez, a 25 year veteran of the department, has filed a lawsuit against the LAPD and the City of Los Angeles, Courthouse News Service reports. In the complaint, he says his supervisors were aware that other officers singled-him out after he reported a secret firearm program within the force, but they "failed to take steps to prevent or undo the retaliation."
According to the lawsuit, Perez was tasked with conducting an audit of the weapons arsenal maintained by the Metropolitan Division of the LAPD while he served as Officer in Charge of the Armory. But while accounting for the firearms in 2010, he discovered a discrepancy that led him to uncover a gun-selling scheme.
"While performing the weapons audit, plaintiff learned that both officers within the unit and civilians were purchasing special LAPD SWAT-stamped Kimber firearms intended for official use. Plaintiff also discovered that the officers within the unit were possibly reselling these Kimber firearms for large profits to people outside of Metro SWAT," the complaint reads.
In the lawsuit, attorneys for Perez add that his investigation led him to discover that guns were being bought and sold between not just LAPD officers of various ranks — including the captain and the plaintiff's own commanding officer — but to civilian personnel, as well. The investigation also led him to discover that the entire arrangements were being conducted illegally behind the backs of the firearm manufacturer. As Perez spoke up, though, the investigation was quickly handed over to someone else.
"Plaintiff was not informed of whether [the Internal Affairs Group] performed an investigation into misconduct surrounding the weapons sales," the suit claims.
Soon after, one of those officers linked to the gun trade, James Quinlan, "made a retaliatory complaint against Perez," which the plaintiff alleges created a hostile work environment. Matters were made worse for the plaintiff in August 2012, when the Los Angeles Times picked up news of the gunrunning.
"Following the LA Times story, the retaliation against plaintiff intensified. Plaintiff was ostracized, his reputation damaged, and [was] told to 'watch his back,' among other retaliatory acts," the lawsuit claims.
When that investigation was made public, it was reported that between 51 and 324 Kimber handguns were resold for a profit by members of the force.
"Certainly this is something that we are going to guard against in the future," Police Chief Charlie Beck told an ABC affiliate. "At the very least department guidelines will be restructured so this doesn't happen again."
But Perez said the only things that changed were his colleagues retaliated at him worse.
You can share this story on social media: