Arrests in Brooklyn in 3rd night of police brutality protest (PHOTOS)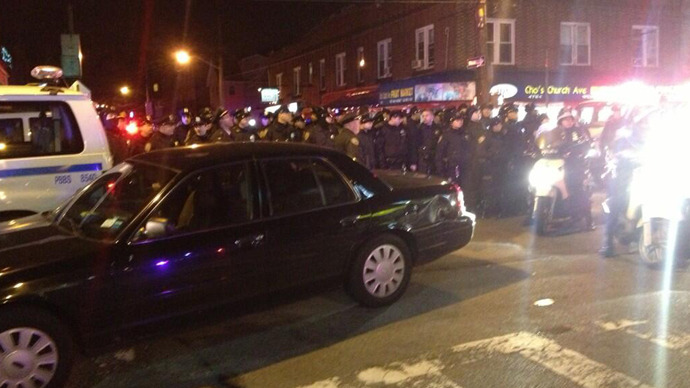 Eighteen have been arrested in Brooklyn's East Flatbush neighborhood as New Yorkers came out for a third night of protest over the police killing of 16-year-old Kimani Gray, police reported.
The demonstration began at Brooklyn's 67th Precinct in East Flatbush, the part of New York's Brooklyn section where Gray was shot to death by police on Saturday. Witness and police accounts differ on whether Gray was brandishing a weapon before he was killed.
According to autopsy results, Gray was shot seven times – four times in the front of his body, and three times in the back.
Brooklynites were heard shouting "murderers!" at the massive police presence Wednesday as officers prohibited people from even stepping onto the street in one of New York's poorer neighborhoods while police helicopters circled overhead.
The event has been marked by a near-absolute lack of commercial media coverage, with most of the slack being picked up by activists livestreaming from the rally or reporting via Twitter.
Media reporting on new Pope for 20 straight hours while helicopters & riot gear are deployed on the streets of New York. #BrooklynProtest

— Anonymous (@DBCOOPA) March 14, 2013
Reinforcements were brought into the neighborhood early in the evening after a police car's rear windshield was smashed at the tense but generally peaceful demonstration.
"About 45 arrests so far, lot of young black women in particular," said Twitter user @shushugah, reporting  earlier from the demonstration. Police only confirm 18 people arrested.

Video #Brooklynprotest#kimanigray NYPD arresting people on sidewalks. youtu.be/qmN-SLNk1eUfb.me/203I3HmBd

— Javier Soriano (@JavierSorianoNY) March 14, 2013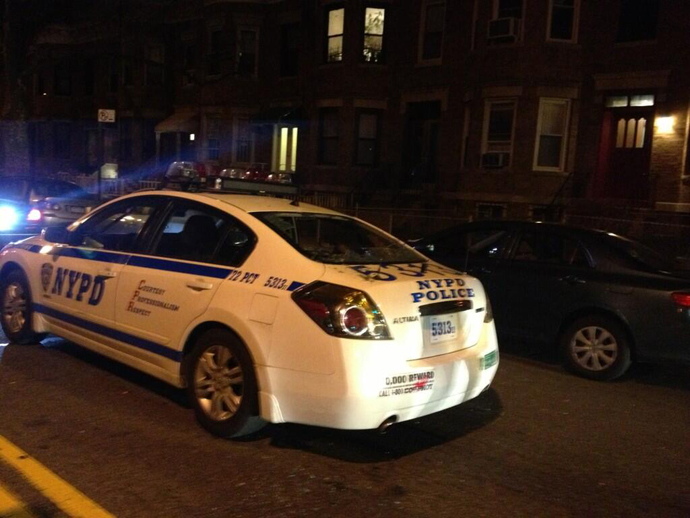 "The block is closed," a police officer told Ustream user stopmotionsolo as he tried to film the protest. "Party's over," the officer added.
Gray's killing struck a nerve in East Flatbush, where in August 2012, 23-year-old Shantel Davis was shot to death by a police officer after being dragged out of her car. The officer claimed she had stolen the car she was driving at gunpoint. She bled to death.

RT has been covering the East Flatbush rallies in memory of Gray from day one, and spoke to legendary civil rights activist Carl Dix, who has spent much of his career advocating against police brutality.
The NYPD has long struggled with accusations of systematic racism, and Dix says US authorities have their priorities mixed up.
Video of young female protestor being arrested & crushed by 5 cops.youtu.be/ZGN-k148TW4#Brooklynprotest

— Anonymous (@CIApressoffice) March 14, 2013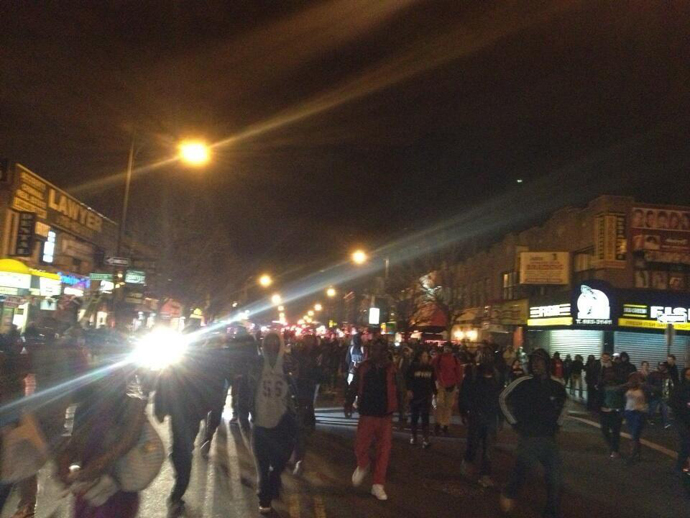 "The police – whenever they murder or kill a black or Latino youth – it is always justifiable homicide. The witnesses tell a different story, and this happens again and again," Dix told RT.
"We should live in a society where those who are entrusted with public security would sooner risk their own lives than murder or injure an innocent person. But it's the other way around."
"People are frustrated, people are angry," Dix said of the Brooklyn rallies in recent days. "And I'm not going to condemn them for standing up expressing their anger – because the real violence in this case begins with the killing of Kimani Gray."
#NYPD declared a portion of Flastbush a "Frozen Zone", i.e. media are not allowed in and people can be subjected to arrest #BrooklynProtest

— Tidal (@occupytheory) March 14, 2013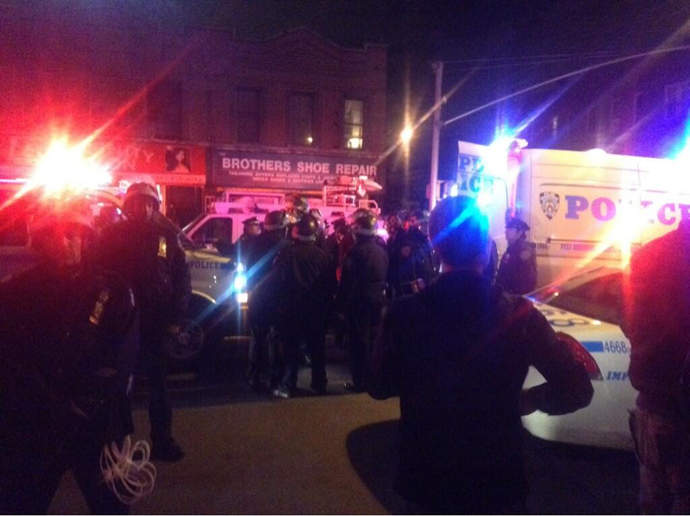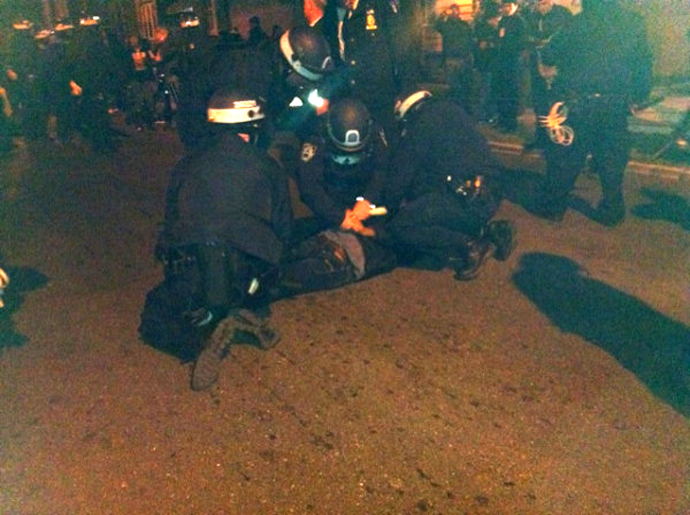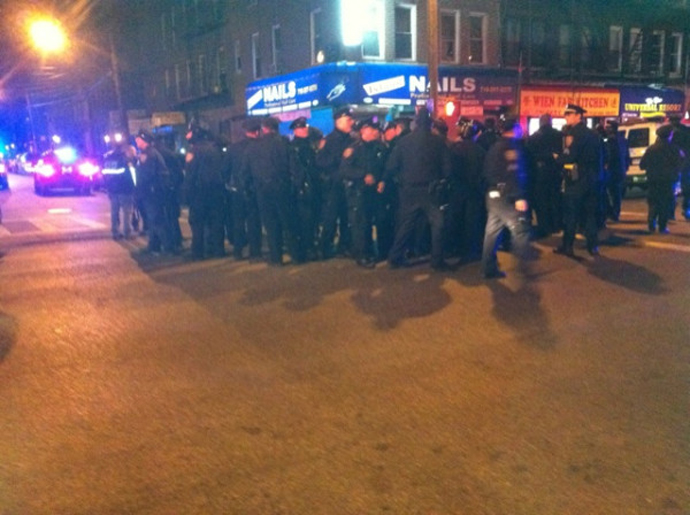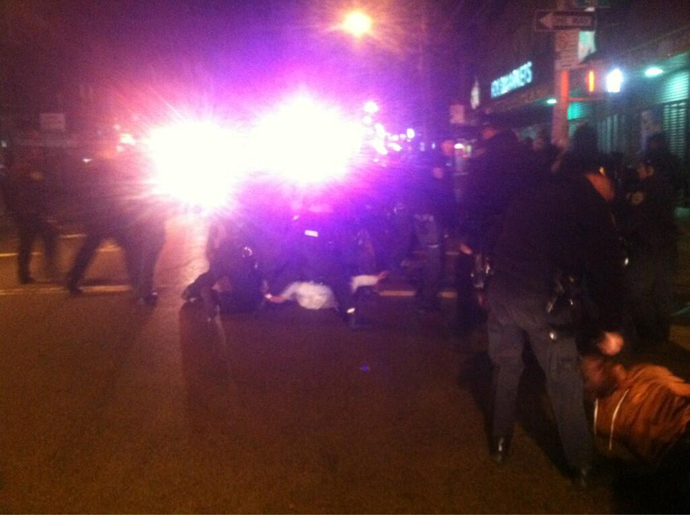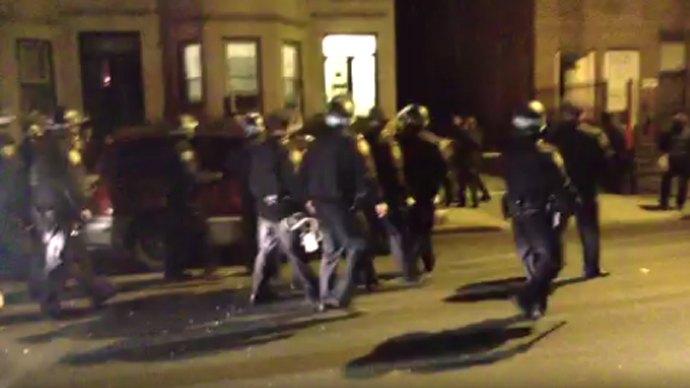 You can share this story on social media: