Asteroid-mining company crowd sources to build telescope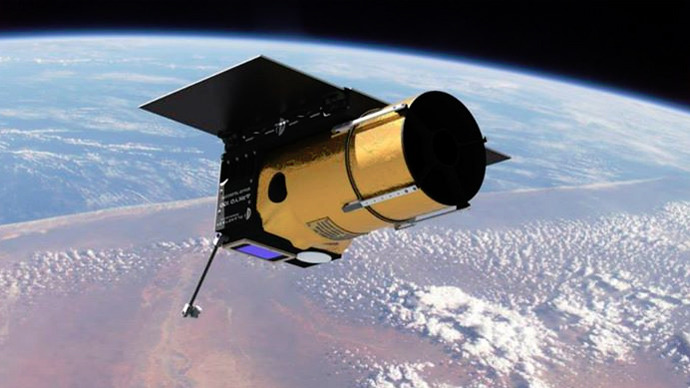 A new space start-up company being backed by execs from Google is offering supporters a chance to wow their friends with a photo opportunity that's quite literally out of this world.
Planetary Resources of Bellevue, Washington launched a crowdfunding campaign on Kickstarter this week in order to bring in the money necessary to launch ARKYD, an orbiting telescope that will take custom photos for those willing to open up their wallets.

The company got off the ground last year and previously announced plans to capture asteroids flying through space with hopes of mining the rocks for precious metals and water — that's why the telescopes were originally designed. Now Planetary Resources is exploring other endeavors, and wants to bring the public a telescope project that can do more than just mine for minerals in space.

"All we are asking is for the public to tell us that they want something," company co-founder Eric Anderson said during a press conference on Wednesday, Reuters reported.

"We're not going to spend our time and resources to do something if people don't want it and really the only way to prove that it's something people want is to ask them for money," he said.

The company hopes to raise one million dollars by the end of June, and is providing donors with an unusual incentive: for $25, a support is sent an image of their choice taken miles above the Earth.

"At its core, the ARKYD is a space telescope. The large, main optic is designed to take high-resolution photos of objects in space. What truly sets it apart is that we've engineered the spacecraft with an external screen and a camera arm, allowing us to take pictures of the ARKYD as it orbits Earth," explains the company.

"Your photo (or graphic!) will be displayed on the satellite's external screen overlooking Earth. We will then take a picture from our camera arm and send the image back to you."
 
Planetary Resources is calling the option a "Space Selfie," and thousands of people have already forked over the money to make it happen.

"I want to see a selfie in space," Planetary Resources' president and chief engineer, Chris Lewicki, said during a Wednesday press conference.

That's just what $25 will earn a donor though. Other options include having a video displayed on the telescope's screen or supplying schools with exclusive time to peer into space using the satellite's lenses.

"If we're successful, we'll go off and create the material we need to do this public activity and make it happen," Lewicki added to NBC News.

Two hours after the project went public on Wednesday, Project Resources received more than $100,000 in donations. Twenty-four hours later, the telescope was just short of the halfway point to raising its one
million dollar goal.

"[W]e had an extraordinary response .... Tens of thousands of people contacted us and wanted to be involved," founder Peter Diamandis said. "We are using this Kickstarter campaign as a mechanism to engage the
community in a productive way."

The company hopes to launch their first ARKYD, a 33-pound satellite with a 2-foot wingspan, in the later half of 2015. Planetary Resources is backed by investments courtesy of Google CEO Larry Page, Chairman
Eric Schmidt and director James Cameron.
You can share this story on social media: