California cops defend phone confiscations as video of 'constant bashing' emerges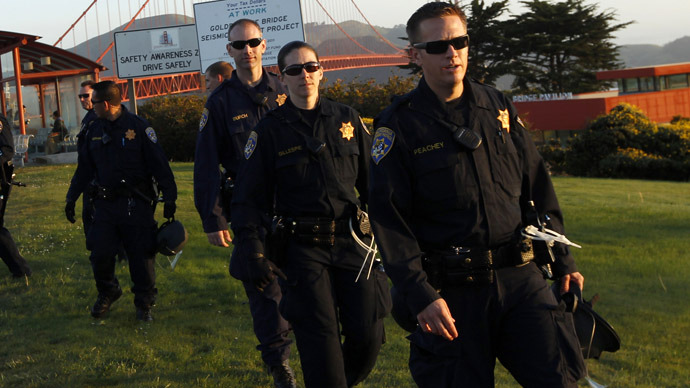 Mounting pressure from national media and the local community still has not convinced California police to offer any explanation for why they confiscated cell phone video taken by witnesses who say eight or nine officers beat a helpless man to death.
The Kern County Sherriff's Office has responded to allegations of police brutality only by stonewalling reporters and the family of David Silva, 33, who died last week after witnesses say police took turns hitting the supposedly inebriated man in the head with their batons. Observers who phoned 911 to report the police abuse were later visited by detectives demanding they turn over any footage captured in the early morning hours of Wednesday, May 8. 
The seven Kern County deputies officials say were involved in the incident (the number of California Highway Patrol officers present is still unknown) have not been placed on administrative leave, according to the Bakersfield Californian, and department officials have refused to explain why. 
"We're following the same protocol, as far as the administrative process is concerned, that we'd follow in similar-type incidents," said sheriff's spokesman Ray Pruitt. Other law enforcement higher-ups echoed a similar sentiment by implying their silence was warranted by an "ongoing investigation" that could last for months. 
The cause of death will be announced pending a toxicology report from the coroner as well as microscopic studies. But the delay in explanations fail to account for why witnesses told local and national media outlets that Silva appeared to die in front of them, after a police beating and while a canine unit looked on, apparently ready to intervene if Silva would have been allowed to stand. 
Melissa Quair told the Bakersfield Californian that aggressive deputies showed up at her door and blocked the exit as they seized her boyfriend's phone, which contained video of the beating. She also asserted that her mother was forced to forfeit her phone, even after the police were told it did not contain any supposed evidence. 
"They used more force than was needed," Quair said. "I told them that they didn't have permission to say who could go in or out of my house. My mom is disabled and has a lot of doctor and medical numbers stored in her phone. But the detective didn't care and they told my mom to write all her contacts down on a piece of paper and while she did they watched her like hawks." 
Only one poorly-lit video of the beating has surfaced, but 19 blows are visibly delivered by three officers.
"Constant bashing, this is constant bashing," Chris Silva, brother of the victim, told KBAK-TV after the tape was broadcast on the local news. "You can count, you know – I can't keep track. And it hurts my head looking at this."
You can share this story on social media: