Philly cop charged after wrongfully arresting war vet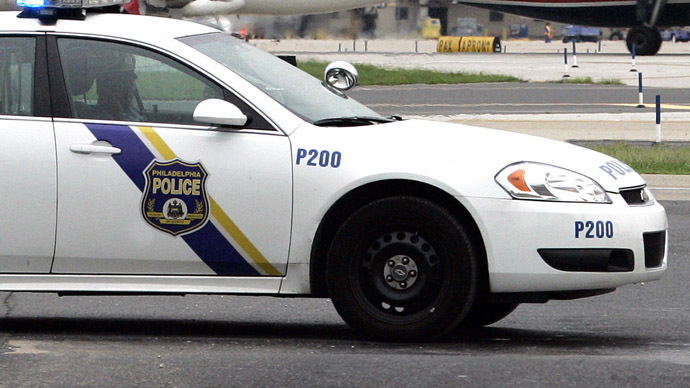 A Philadelphia, Pennsylvania police officer who has been investigated by internal affairs a dozen times since 2009 has been suspended after being charged this week with false imprisonment and other counts related to a March 2013 incident caught on film.
Officer Kevin Corcoran, 33, was suspended on Wednesday morning this week after being faced with multiple counts stemming from an altercation last spring in downtown Philly in which he handcuffed a local man, hauled him into his SUV and drove him around the city for roughly 16 minutes before releasing him without charge. The first moments of the incident were captured by the cell phones of eyewitnesses and uploaded to the internet last year.
Corcoran turned himself in to the Philadelphia Police Department's Internal Affairs unit early Wednesday and was promptly stripped of his gun and badge before being processed that evening with unlawful restraint, false imprisonment and official oppression — all misdemeanors — as a result of a nearly year-long probe launched by city officials to investigate the officer's handling of an incident between an Iraq War veteran and himself that occurred at around 2 a.m. last March 31.
On Wednesday, the Office of the District Attorney for the City of Philadelphia issued a statement to say that the 11-month joint investigation conducted by the DA's Special Investigations Unit and the Philly PD's Internal Affairs Department had concluded with charges being filed against Corcoran, a nine-year veteran of the force.
The DA Office's statement largely corroborates witness accounts and what can be clearly seen in the YouTube video uploaded last year: Corcoran was on duty at the time of the incident when, provoked by comments made by a group of people on a street corner concerning his driving, he exited his vehicle, approached one of the individuals and unlawfully detained them.
According to the official statement, Corcoran first slapped the cellphone out of the hands of one of the witnesses and then approached the victim — Roderick King, formerly of Philadelphia — and barked "Don't fucking touch me" at the man as he inched closer.
"Corcoran continued to walk toward the young man who was backing up with his hands out in front of him making no contact with the officer," the statement reads. "Corcoran then pushed the young man, grabbed him by the chest, threw him against the side of his police vehicle, handcuffed him and threw him into the back of his vehicle."
"Corcoran then sped off with the victim in the back seat," the statement continues.
Attorneys for King filed a $1 million lawsuit against the city shortly after that altercation occurred, and at the time accused Corcoran of unlawful search and seizure, assault and battery and multiple violations of constitutional rights. Corcoran was placed on desk duty pending the results of the lengthy investigation, but the city elected to press charges against him only this week after completing their probe.
The suspension, handed down by Police Commissioner Charles H. Ramsey, was made with intent to dismiss the officer.
"It's good to see the city is finally, after 11 months, firing [Corcoran] for something that was clear as day to see," King attorney Kevin Mincey told the Inquirer.
"It's a scary thing when the people who are sworn to protect and serve just take liberty with their power and can throw you in the back of a car take you away and no one responds," Mincey added to a local Fox affiliate. "It just shows the importance of recording your interactions with police officers you have a right to do it. Sometimes it's the only way to get action to be done."
But as the local media was quick to point out, last March's incident is actually but one of many in which Corcoran was accused of unlawful conduct. Philadelphia Inquirer staff writers Mike Newall and Aubrey Whelan dug deep to expose more of the officer's sordid past this week, and reported that the Internal Affairs Division conducted 12 investigation into Corcoran since he joined the force, including six just in the year 2009.
Sam Wood, a reporter for Philly.com, found yet more details about some of the most extreme of the alleged incidents:
"Previously, Corcoran was sued in US District Court for allegedly entering a home on 1630 S. Taney Street without a warrant in Nov. 2008 and beating up a resident, leaving the man with two broken vertebrae, a broken nose and a broken eye socket," Wood wrote. One year later, he was again sued in federal court, this time "for the Nov. 2009 beating of a South Philadelphia man who Corcoran and another officer 'kicked, stomped, beat, punched and otherwise assaulted' leaving the man with broken bones and requiring stitches."
Both of those cases were dismissed, Wood wrote, but a 2011 case in which Corcoran allegedly "violently man-handled" an individual after arresting him without probable cause remains open. Two other civil lawsuits against Corcoran have also been filed since 2009, but were settled for an undisclosed amount a year later before trial, Wood wrote.
According to the local Fox station, counsel for King believes the charges brought Wednesday may never have materialized if it wasn't captured by eyewitnesses. King, a US Air Force veteran, left Pennsylvania following the events of last March, his attorneys said.
You can share this story on social media: