Pentagon plans to capture Syria's chemical weapons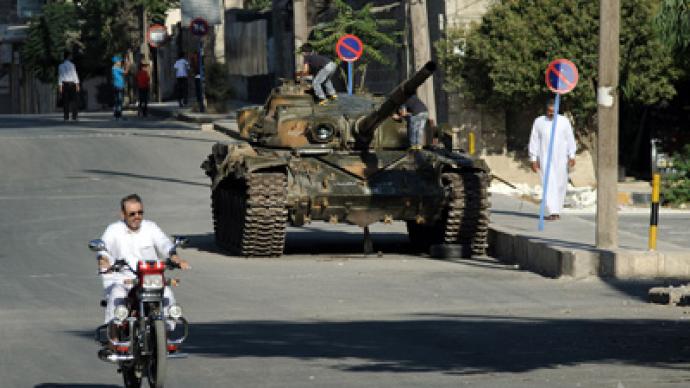 Following US President Barack Obama's warning this week that the United States would quickly intervene in any Syrian efforts to use chemical weapons, the Pentagon is believed to have made contingency plans to outline a plan of action.
Defense Department sources speaking to the Los Angeles Times say that the Pentagon has indeed drafted plans that would put thoroughly-trained special ops troops into Syria in response to an active threat of chemical warfare. Fox News also confirms that senior US officials speaking on condition of anonymity have verified this claim.
Last month, Syrian Foreign Ministry spokesman Jihad Makdissi told reporters that President Basar al-Assad's regime maintained a stockpile of chemical weapons, but said that the warheads, "are in storage and under security and the direct supervision of the Syrian armed forces and will never be used unless Syria is exposed to external aggression."
On Monday this week, President Obama warned, "if we start seeing a whole bunch of chemical weapons moving around or being utilized" by Syria that Assad will have crossed a "red line" and American intervention would be immediate. In the latest developments, the Defense Department is thought to have set aside troops specifically prepared to enter Syria and recover such contraband.
The US has a "very professional and a very trained and ready force in the Gulf region … and it's in a deterrent preparedness posture," Joint Chiefs of Staff Chairman Gen. Martin Dempsey tells Fox, "but at some point if we're asked to use it, it'll be ready."
"I take the president's word that he will consider the use of chemical and biological warfare as a game changer," Gen. Dempsey remarks of Obama's warning.
To the Times, one senior official left unnamed says that the Pentagon will rely on the president's judgment to determine if intervention must occur immediately, and while the Defense Department's plans are not set in stone yet, the appropriate forces will be ready to respond.
"We have done contingency planning but we're not doing detailed planning — identifying numbers [of troops], units and platforms — until the White House tells us we need a specific plan for this," the source says.
Another official tells the Times that he expects American efforts to be accompanied by other allied forces, and, "You shouldn't interpret what Obama said to mean that there would be automatic military action, but rather that we would respond as part of an international effort."
Wednesday evening, UK officials confirmed that British Prime Minister David Cameron has endorsed Obama's warning to Syria, with one Downing Street spokesperson telling the Times that "Both [leaders] agreed that the use – or threat – of chemical weapons was completely unacceptable and would force them to revisit their approach so far."
Both Obama and Cameron spoke briefly by phone on Wednesday to discuss the Syrian issue. Israel's Debka news agency adds that French President François Hollande was also involved in the conversation, which focused on fears that any chemical warheads overseas might slip into the hands of al-Qaeda or Hezbollah forces if they are not recovered by western allies.
Separate from Mr. Obama's conversation with PM Cameron, the Guardian reports that the British leader and France's Mr. Hollande spoke one-on-one-this week.
"They discussed how to build on the non-lethal support recently announced by the UK and agreed that France and the UK would work more closely to identify how they could bolster the opposition and help a potential transitional Syrian government after the inevitable fall of Assad," a British source tells the paper.