Pennsylvania law endangers public health to promote fracking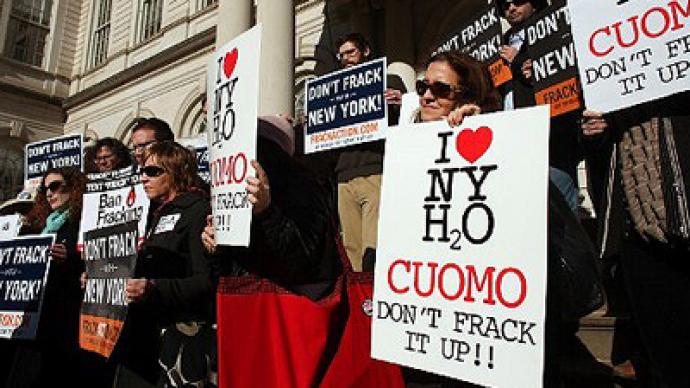 As researchers continue to investigate the pros and cons of fracking as a method of procuring natural resources, it still isn't abundantly clear what hazards are at hand. In Pennsylvania, however, it looks as if it won't even matter.
Should high volume horizontal hydraulic fracturing, or fracking, prove to be as hazardous to the human body as some skeptics say, it won't matter all that much in the state of Pennsylvania. It's there in the Eastern United States where a new law will keep any dangers of fracking away from concerned critics.
Fracking has been a hotbed topic among environmentalists and energy corporations alike, as the method of drilling deep into the Earth for the procurement of natural gas could boost America's domestic supply of resources. Many are concerned at the cost of the process on both the planet and its people, however, with one recent study linking a series of fracking drills to an outbreak of earthquakes in the state of Ohio. Elsewhere researchers have revealed links between the chemicals used in fracking to diseases in humans, but drillings continue to occur unopposed in a in a sizable chunk of America.
A congressional report filed last year revealed that around 650 of the 750 chemicals used routinely in fracking have been considered carcinogens. Although the National Center for Environmental Health calls a good chunk of these fluids "potentially hazardous," fracking continues to be performed in areas where deep-earth drilling can return a sizeable chunk of natural gas. This year NCEH director Christopher Portier told the Associated Press that radioactive elements could be introduced to the atmosphere in addition to cancer-causing compounds, but as concern continues to build, legislation in Pennsylvania could essentially outlaw informing the public of grave conditions.
Walter M. Brasch reveals an amendment to Pennsylvania's Title 52 of the state's Consolidated Statutes in an article he recently penned for the LA Progressive website. In his research, Brasch unearths that companies involved in fracking must keep a tally of chemicals and gasses used in the process, but if approached by physicians or concerned parties for details on the drilling, companies in question are not required to reveal the materials involved. Additionally, writes Brasch, should a physician be informed that fracking introduces carcinogens above the surface of the Earth, doctors are by law not allowed to disclose this information to their patients.
"A strict interpretation of the law would also forbid general practitioners and family practice physicians who sign the non-disclosure agreement and learn the contents of the 'trade secrets' from notifying a specialist about the chemicals or compounds, thus delaying medical treatment," writes Brasch.
Dr. Helen Podgainy, a pediatrician from Coraopolis, Pennsylvania, tells Brasch that the legislation is something unprecedented for the government to impose on physicians. "I have never seen anything like this in my 37 years of practice," she says, adding that her first priority "is to diagnose and treat, and to be proactive in preventing harm to others." Under the new law, however, physicians could be forced to forgo warning their patients for the sake of bettering profits for energy companies.
Dr. Podgainy adds that the law "hinders preventative measures for our patients, it slows the treatment process by gagging free discussion."
Although fracking has yet to catch on across all of America, it could shape up to be that way as US President Barack Obama endorses the option as a viable solution to increasing the domestic supply of natural resources. During his State of the Union address earlier this year, Obama announced "We have a supply of natural gas that can last America nearly 100 years, and my administration will take every possible action to safely develop this energy." Even under current law, however, the practices performed by energy companies are debatably safe. As researchers continue to investigate the toll that fracking could have on humans and the environment as a whole though, the truth behind the dangerous drilling is being kept away from the public in Pennsylvania.
You can share this story on social media: