Ron Paul: 'Secret Service is a form of welfare'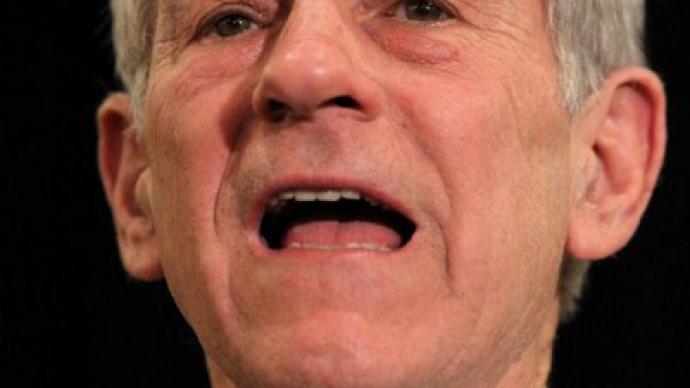 Among the controversial issues discussed by the remaining GOP candidates, all find it necessary to protect themselves from the ever present threat of glitter bombs. All candidates but one.
Ron Paul is the only Republican presidential hopeful who doesn't find it necessary to spend tax payers' money on fancy luxuries such as Secret Service protection, comforting other GOP candidates: Mitt Romney, Rick Santorum and Newt Gingrich.
In an interview with Jay Leno, Paul added that employing Secret Service is a "form of welfare."
"You know, you're having the taxpayers pay to take care of somebody," Paul said.
"I'm an ordinary citizen and I would think I should pay for my own protection, and it costs, I think, more than $50,000 a day to protect those individuals," Paul told Jay Leno on Tuesday when he appeared as a guest on The Tonight Show.
The twelve-term Congressman received a standing ovation last night as he walked on to discuss where he stands on the issues and discuss how the other candidates change their stance on matters as long as it appeases their crowd.
But it seems Romney and Santorum have no issues spending Americans tax money for their own well-being.
To Doctor Paul Romney is a "flip-flopper" and Santorum is a "fake conservative," but to Secret Service they are known as "Javelin" and "Petrus" respectively.
According to an ABC news article, the Romney and Santorum camps publicized the candidates' Secret Service codenames to GQ magazine on Monday and explained why they chose their particular names.
The people of GQ guessed Romney selected "Javelin" because it was a car built by American Motors, an enterprise run by his father.
In an interview with Fox News, Santorum admitted his name was inspired by his Italian immigrant grandfather, Pietro. Santorum also added that "Petrus" is Latin for Peter who was the first pope of the Roman Catholic Church.
Ron Paul did play around the idea of having Secret Service track his every move and came up with the codename "Bulldog," his reasoning behind it?
"I'd go after the Fed and all that big spending," Paul chuckled.
Speaking about his rivals he didn't shy away from using harsh words, with Rick Santorum arguably getting the biggest portion of criticism. 
"I think he's a fake because conservatives are supposed to be for less government, but his voting record is a disaster for that," he expressed on The Tonight Show.
Due to Paul's recent attacks on Rick Santorum and the apparent teaming up with Romney at some of the GOP debates, there are talks that Romney and Paul are forming an alliance.
According to The Washington Post, "Paul's national campaign chairman, Jesse Benton, confirmed the decision last week by the two campaigns to skip a March 1 CNN debate in Georgia was a closely-coordinated one."
Jay Leno confronted Paul on the rumors going around the Internet and Paul said, it must be"very secret, because he and I don't know a whole lot about it."