Rand Paul wants US to keep foreign military bases open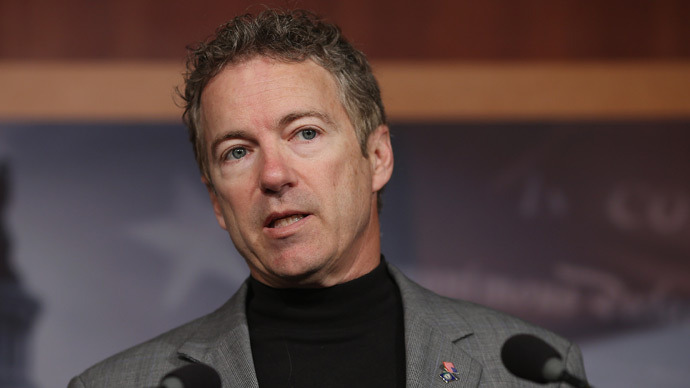 The apple might actually fall further from the tree than once thought: US Senator Rand Paul (R-Kentucky) says he has no desire to demand that the Pentagon shut down the hundreds of overseas military bases currently in operation.
"I'm not saying don't have any," the senator said to Time's Alex Altman last week. "I'm just saying maybe not 900. I mean, I'd rather have one at Fort Campbell and Fort Knox than one in Timbuktu."
Shutting down the US military's overseas bases isn't exactly top priority for any US lawmaker currently serving in the House and Senate, but that isn't to say Sen. Paul wouldn't be expected to swing in that direction. Before he retired earlier this year, Sen. Paul's father, Rep. Ron Paul (R-Texas), rallied feverishly to remove the US military from bases abroad.
"We're under great threat, because we occupy so many countries. We're in 130 countries. We have 900 bases around the world," the senior Paul said last September while on the campaign trail running for United States president.
"We don't need to pay all this money to keep troops all over the country, 130 countries, 900 bases. But also, just think, bringing all the troops home rather rapidly, they would be spending their money here at home and not in Germany and Japan and South Korea, tremendous boost to the economy," he said during another 2012 speaking engagement.
Rep. Paul stepped away from Washington politics earlier this year when he let his role as congressman expire without seeking another term in office. At the time, admirers of the libertarian-leaning Republican responded by saying the lawmaker's senate-serving son, along with others like Rep. Justin Amash (R-Michigan), would carry on his legacy on Capitol Hill. Just a few weeks after Rep. Paul formally retired, though, his son is already speaking out against the very policy that was at the root of the Ron Paul in 2012 platform.
While Rep. Ron Paul wanted a "total removal" of US forces from the vast operations abroad, his son isn't exactly following in his footsteps in that regard. Jon Ward of Huffington Post says he asked the Kentucky senator if he would favor the same approach as his father during a recent event hosted by the National Review, or if he would instead opt for a solution where the CIA would take responsibility for the United States' current operations in Iraq where, formally, the United States walked away from a lengthy war over one year ago.
Paul responded, writes Ward, supporting something "in between all that."
"I think having some places and bases where we could orchestrate attacks if we had to, if there's a regrouping of people, wouldn't be too unreasonable. But I think out patrolling the villages after 12 years, the Afghans should be doing that," Paul said at the time.
Just moments later, writes Ward, the senator said something a bit more uncertain.
"There are some who want to come completely home. Some want to stay forever. And the answer might be somewhere in the middle that we'll still have bases in places, but we don't necessarily have to maybe have 900 bases. Maybe we have less," he said.
"The fact that Paul expressed support for the idea of some military bases abroad, and even some in or near Iraq, is interesting because it is a significant difference from his father, former Rep. Ron Paul (R-Texas)," writes Ward. "Asked on Fox News in June of 2011 which bases on foreign soil he would like to see closed, the elder Paul answered succinctly, 'All of them.'"
That isn't to say, of course, that Sen. Paul has always stayed true to his father's ideals in the past. When former Massachusetts Governor Mitt Romney secured the nomination for the GOP candidate for president last year, Paul formally endorsed the party favorite, leaving Rep. Paul without even the support of his own son.
"Well, you know, my first choice had always been my father. I campaigned for him when I was 11-years old. He's still my first pick. But you know, now that the nominating process is over, tonight I'm happy to announce I'm going to be supporting Governor Romney," said the senator.
You can share this story on social media: