US Park Police admit losing track of gun stocks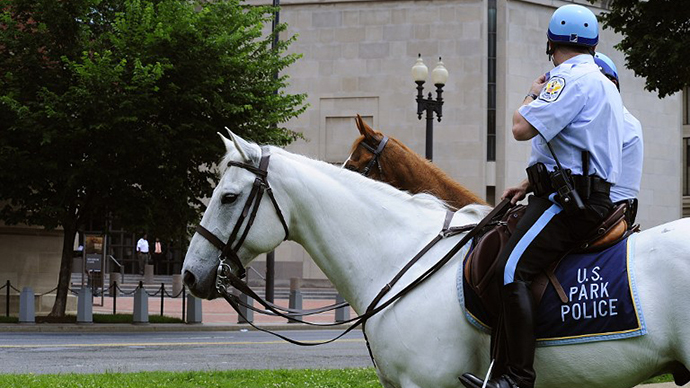 The US Park Police lost track of hundreds of handguns, rifles, machine guns and shotguns, some of which were being stored in officers' homes, a new Inspector General's report found.
Investigators also discovered that 1,400 guns intended for destruction were instead stored in Park Police facilities, and at least 198 handguns donated by the Bureau of Alcohol, Tobacco and Firearms had not been properly registered.
The Park Police is responsible for protecting Washington, D.C.'s national monuments and parks, and the latest example of mismanagement has caused concern that the weapons may have fallen into the wrong hands.
Although there is no evidence that criminals obtained any of the firearms, the Inspector General's report warns that it is possible – and that the Park Police might never know if this happened. Investigators at the US Interior Department's Inspector General's Office initially looked into the matter after receiving an anonymous complain that Park Police officers were taking military-style weapons home with them. 
"We found that staff at all levels – from firearms program managers to their employees – had no clear idea of how many weapons they maintained due to incomplete and poorly managed inventory controls," investigators told United Press International. "As a result, we discovered hundreds of handguns, rifles and shotguns not account for an official USPP inventory records."
In one instance, investigators found that an officer working during President Barack Obama's second-term inauguration had kept a semiautomatic rifle stored at his home without permission.
The IG report also noted that it had discovered problems in 2009 and 2011, which persisted despite internal memos. In Oct. 2011, the Park Police created a list of 18 pistols, shotguns and rifles that it described as lost or stolen, but never launched an investigation. In the end, investigators found that the guns had been destroyed, given to other agencies, or still in the possession of Park Police.
"This report further underscores the decade long theme of inaction and indifference of USPP leadership and management at all levels. Basic tenets of property management and supervisory oversight are missing in their simplest forms," the deputy IG, Mary Kendall, wrote in a letter accompanying the report. "Commanders, up to and including the chief of police, have a lackadaisical attitude toward firearms management. Historical evidence indicates that this indifference is a product of years of inattention to administrative detail and management principles."
The report claims that the conditions created by the Park Police allow for "theft and misuse of firearms". With the ability to conceal the fact that weapons are missing, employees can surreptitiously take them home and the firearms could easily end up in the hands of criminals.
"I have no tolerance for this management failure," Park Service Director Jonathan B. Jarvis said in a statement sent to numerous media sources. "The safety and security of our visitors and employees remain our highest priority."
But the Fraternal Order of Police released a response, noting that the Firearms Custodian has "little to no access" to the computer system used to track government-owned firearms, and is therefore unable to add the Park Service's information.  But Jeffrey Olson, a spokesman for the National Park Service, which oversees the Park Police, said the agency has been ordered to immediately create a weapons inventory of its own.