Month of March: 1,500 OWS protesters on the move in NY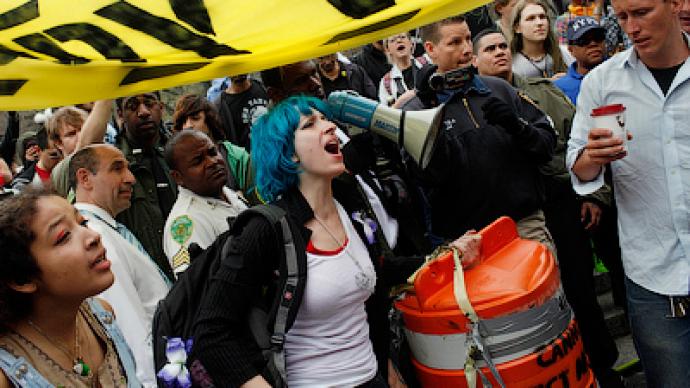 Over a thousand Occupy Wall Street protesters have gathered in NY's Union Square late on Wednesday, activists say. This follows a violent crackdown on protesters earlier in the day which left one woman injured and at least one person arrested.
The fresh OWS march started from Union Square, spilling into the streets of New York, which the city police were hurriedly trying to block. The Union Square subway station was also closed, organizers said in their live feed, in order to prevent more demonstrators joining the rally.The protests received popular support with people hanging out their windows along the march's route, banging pots and chanting. Protesters reported taxis honking their horns in a show of solidarity.About 500 police officers barricaded the square, where occupiers were chanting "No justice? No peace!" Still, there have been no immediate reports of arrests.Angered by police brutality towards demonstrators, OWS protesters have announced another rally for March 24, calling for supporters to gather at NYC's Liberty Square. A large protest rally is also planned for May 1. Organizers are calling on people to skip their work or school and take to the streets to protest against brutal arrests.
You can share this story on social media: