'You may want to consider relocating' - Oregon police too broke to fight crime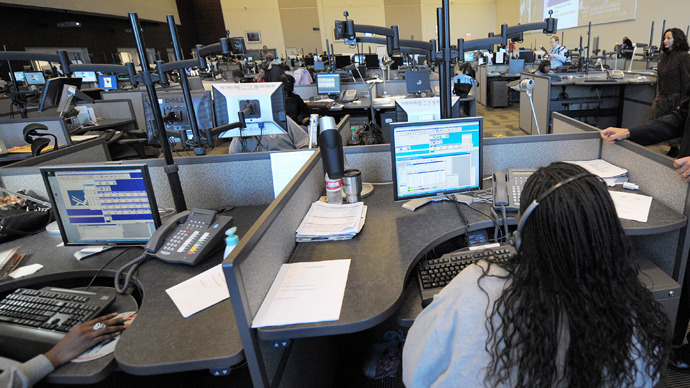 There are only six deputies in the Josephine County, Oregon Sherriff's Office, and resources are so sparse that a woman was raped last year after an emergency dispatcher told her four times over the phone there was no one to help her.
It was last August, and a woman was brutally raped and sodomized by her abusive ex-boyfriend after unsuccessfully pleading with a 911 dispatcher for over 10 minutes.
"I'm not letting him in, but he's, like, tried to break down the door, and he's trying to break into one of the windows," the woman is heard telling the operator in the calls.
"He put me in the hospital a few weeks ago, and I've been trying to keep him away," she said.
Four times during that call, the operator told the woman that she wasn't able to provide assistance.
"I don't have anybody to send out there," she kept saying. "Once again, it's unfortunate you guys don't have any law enforcement up there."
At the county jail, staffing cuts caused by a lack of funding has formed a revolving door system where inmates are released sometimes right after being arrested because there's seldom enough money to keep facilities functioning at even the bare minimum. There are only six deputies in the Josephine Sherriff's Office, and recently the department's canine unit was cut to a single dog.
"You may want to consider relocating to an area with adequate law enforcement services," the department cautioned the county's 80,000 or so residents last year.
Although a Wild West-like scenario has spiraled out of control in the Pacific Northwest, residents voted against a measure Tuesday that would have funded much-needed law enforcement operations at the cost of only a 3 percent tax levy.
The measure would have bumped the county government tax rate — currently the lowest in the state — to $1.48 per $1,000, in turn costing the average homeowner in Josephine around $85 a year extra.
But even after news of last year's rape went viral, residents narrowly decided this week to halt any attempt to milk mere pennies on the dollar for an added sense of security. On Tuesday evening the decision was too close to call in Josephine, but by Wednesday afternoon the county clerk acknowledged to RT that the public safety levy was voted down by a margin of 51 to 49 percent, with barely 500 ballots deciding the fate of a county where calling 911 is no longer the way to handle an emergency.
"There isn't a day go by that we don't have another victim," Josephine County Sheriff Gil Gilberson told Oregon Public Broadcasting last week. Speaking to OPB, Gilberson directly blamed the ongoing inability to fight crime on budget restraints.
"If you don't pay the bill, you don't get the service," he said.
Policing Josephine County wasn't always a problem. In 2000, Congress passed the Secure Rural Schools and Community Self-Determination Act and as a result began sharing revenue made off of timber grown on public land.
"Federal forests make up 60 percent of the land in many rural Oregon counties. Because federal land isn't subject to property taxes, the federal government for decades shared timber sale revenue with the counties," the Oregonian recently noted.
Those funds were until recently divvied up among rural counties to help line the pockets where sparsely inhabited towns were losing out on taxes brought in by more densely populated regions. The act has expired, however, and the result has been the rapid defunding of public programs in some areas, including the Josephine Sherriff's Office. Since the expiration of the bill, the county has lost millions of dollars in revenue that for more than a decade was a routine handout.
In the case of last August's rape, a 911 dispatcher stayed on the phone with the soon-to-be victim for over 10 minutes, instructing her to hide in her house while emergency options were considered.
"None of the sheriff's deputies in Josephine County were on duty," explained Amelia Templeton of OPB. "So dispatch transferred the call to the Oregon State Police, but they also didn't have anyone available."
"And four times in total, she says there isn't anyone who can help," she said.
The expiration of the act that provided the city with timber revenue forced the Sheriff's Office to cut its budget in half and most law enforcement operations have ended. Had voters agreed to a tax hike on Tuesday, the county expected to raise $9.5 million during the next year and slightly more annually through 2016. Those funds, the voters were told, would be used to increase inmate capacity at the county jail, provide the resources for the District Attorney's office to prosecute more criminals and, generally, bring the force back up to snuff.
"I'm not going to vote for it," Josephine County convenience store owner Les Monk told Templeton. "Things are no worse or better now than they were when they were fully funded."
For Monk — and presumably the 13,365 other "nay" ballots casted on Tuesday — things are just fine in Josephine. Monk told Templeton that he carried a knife for his own protection and suggested that paying money for an inefficient police force wasn't worth his tax dollars. "People have to understand you will, and are able, to defend your property," he said.
According to Templeton, an attorney for the rape victim said the woman felt hopeless, alone and very scared when she waited, unsuccessfully, for police assistance last year. Sheriff Gilbertson admitted that it's a very real problem.
"It's devastated law enforcement," Sheriff Gilbertson told The Oregonian. "The criminals now act with impunity and a sense of entitlement."
"It's been a deteriorating situation for a long time," added Greg Wolf, intergovernmental affairs director for Gov. John Kitzhaber, "and we can see that we're going to hit a wall unless we come up with some dramatic solutions."
Nearby on Tuesday, voters in Curry County voters rejected a $4.5 million effort that aimed to reverse the dastardly trend there. And in Lane County, a five-year, $80 million property tax levy was approved amid similar circumstances — but only after eight previous attempts stretching all the way back to 1998 were rejected by voters.
"We've essentially eviscerated law enforcement staffing over the last 45 years," Lane County District Attorney Alex Gardner told a legislative committee earlier this year. With this week's vote, Lane County can start to pick up the pieces. In Josephine, however, residents have a long ways to go.
Speaking to OPB late Tuesday, reporter April Baer said Gov. Kitzhaber is now expected to declare a public safety emergency and likely and impose a temporary tax to keep at least some law enforcement operations functioning through the end of 2014.