Anti-drone devices for sale: Military contractor claims to have counter-UAV technology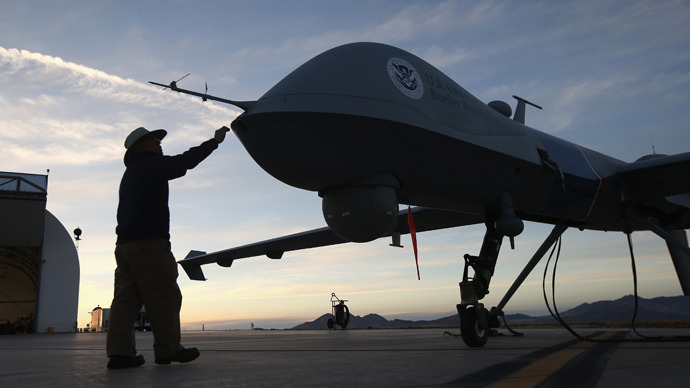 Domestic drones will soon be soaring through the sky left and right, but a company in Oregon with ties to the US military is marketing a service that they say will make sure private property is safe from surveillance.
The team at one-month-old Domestic Drone Countermeasures doesn't go into many specifics, but says they can offer services that will make sure Americans aren't being spied on by hovering eyes in the sky.
"If there's going to be private and commercial drones, there will be people who want to safeguard information," DDC's Tim Faucett told Portland's KOIN 6 News last month. "Think about industrial espionage, or companies that don't want drones around their facilities."
Faucett is no stranger to working around factories — he also runs a company, Aplus Mobile, that has been recognized for providing "high quality computer and appliances" to defense contractors that deal with drones, including Boeing, Lockheed Martin and Raytheon. As recently as November, in fact, Faucett said he was pleased his company's "technology and workforce dedication continues to provide products that meet or exceed the expectations of our military."
Now as the cousins of those military drones are being prepared for domestic use, Faucett is using his know-how to help make sure anti-drone advocates are safe and sheltered. He doesn't say how DDC works exactly, but swears it's a surefire solution.
"Drones will not fall from the sky, but they will be unable to complete their missions," his new company claims.
By selling customers land-based boxes described as "non-offensive, non-combative and not destructive," DCD says the super-sonic snooping powers of surveillance drones won't be able to stand up.
"These countermeasures are highly effective and undefeatable by most current domestic drone technology," the company claims.
Speaking to US News & World Report this week, Faucett says his team of engineers know the ins and outs of the drone business, and could be the only option for some people right now as the risk of drone
"We understand the nature of the equipment drone manufacturers are using and understand how to counter their sensors," Faucett tells US News & World Report. "We're not going to be countering Predator drones that are shooting cruise missiles, but we're talking about local law enforcement drones and commercial ones that people might be using for spying."
And although domestic drones are expected to be widespread for a few more years in America, Faucett says concerns are already coming up.
"I was personally concerned and I think there's a lot of other people worried about this," he tells US News. "We've already had many inquiries, a lot of people saying 'Hey, I don't want these drones looking at me.'"
The Federal Aviation Administration expects there to be roughly 30,000 drones in American airspace by the year 2020.
You can share this story on social media: