An Inconvenient Douche: Keith Olbermann doesn't need cocaine to be like Charlie Sheen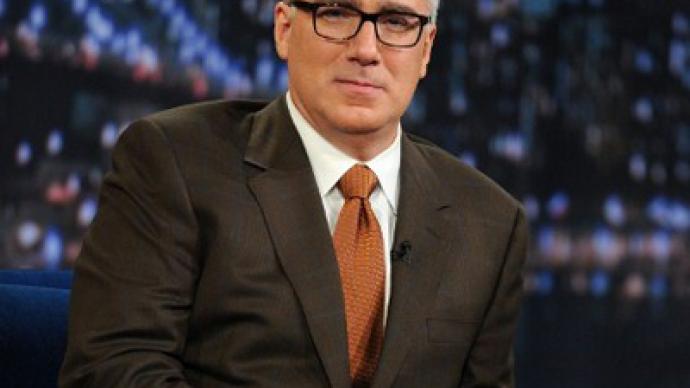 It's been a year since Hollywood whacko Charlie Sheen engaged America with a combo of cocaine-fueled mishaps only to, thankfully, fade into obscurity at an equally impressive pace. Have no fear, however, for his antics have already inspired another.
It's not too often (or arguably often enough) that a big-time breakdown among America's elite is enticing enough to have half of the western world waiting for the next episode in hopes of catching a firsthand account of popular culture collapsing into itself. Luckily only a year after Sheen's escapades intrigued America, Keith Olbermann is quickly snowballing in notoriety after his recent split with Current TV, and it is all too surprising that the circumstances surrounding that incident mirror the misanthropic rise-and-fall of Sheen that the country fixated on at the same time last year.Keith Olbermann came into his most recent position as the host of Current's Countdown program after a much publicized split with MSNBC last year. Since joining the ranks of the Al Gore-run progressive news network, though, neither Current nor the commentator himself have come close to encapsulating the following that his former show had. Olbermann was let go from his hosting duties late last month after Current cited a laundry list of nasty things about its former star, and since then the pundit has pulled out all of the stops with attacking his most recent employer at every chance. So far the story seems to lack the porn stars, goddesses and briefcases of blow that accompanied Sheen's split with his former program, Two and a Half Men, but elsewhere the parallels are practically spot-on.While the aftermaths of both terminations have some similarities, the conditions on which both contracts were cut short are eerily alike as well. When Warner Bros. finally released Sheen from Two and Half Men, they cited erratic behavior and poor performance record and missed appearances as some of their reasoning, all of which was addressed repeatedly. Not that far off, Current claims that Olbermann had little interest in his performance with the network and had missed nearly half of the 41 scheduled work days in the months of January and February alone, also neglecting to cover the Iowa caucus and New Hampshire primary. In letting go Olbermann, Current explained that the network "was founded on the values of respect, openness, collegiality and loyalty to our viewers," and stated that since those values were "no longer reflected in our relationship with Keith Olbermann," severing ties with their star seemed to make sense. In responding to those charges, Olbermann took an approach that would make Charlie Sheen himself cry tears of joy. In the week since he was let go, Olbermann has gone on the record to attack Current TV and its administration at every chance, not very far off from how Sheen took stabs at the producers of Two and Half Men and his former network as their relationship neared an end and well afterward.Olbermann says that his "public termination" was "the latest in a series of increasingly erratic and unprofessional actions undertaken by Current's senior management" and is now asking for upwards of $70 million in unpaid compensation. Similarly it was only a year earlier that Sheen, having recently split from his show, sued Warner Bros. and Two and a Half Men producer Chuck Lorre for over $100 million. In the aftermath of the Olbermann/Current split, the lawsuit filed by the former hosts claims that the commentator regrets putting his trust in the company's management and insists that "Current had neither the desire nor the ability to produce a first rate news commentary show. "Olbermann did not join Current to ruin his hard-won reputation and appear on a show that was an embarrassment," adds the suit, which also labels management at the network as "no more than dilettantes portraying entertainment industry executives."When attacking his old employers, Sheen's representatives had similar things to say. "Chuck Lorre, one of the richest men in television who is worth hundreds of millions of dollars, believes himself to be so wealthy and powerful that he can unilaterally decide to take money away from the dedicated cast and crew of the popular television series, 'Two and a Half Men,' in order to serve his own ego and self-interest, and make the star of the Series the scapegoat for Lorre's own conduct," the actor's attorneys wrote. Sheen would also smear Lorre as a "maggot" and "earthworm" that could be crushed by his "fire breathing fists." Olbermann, on the other hand, has simply insisted that the former network's founders "are no more than dilettantes portraying entertainment industry executives."
You can share this story on social media: