Occupy Wall Streets gets support from unions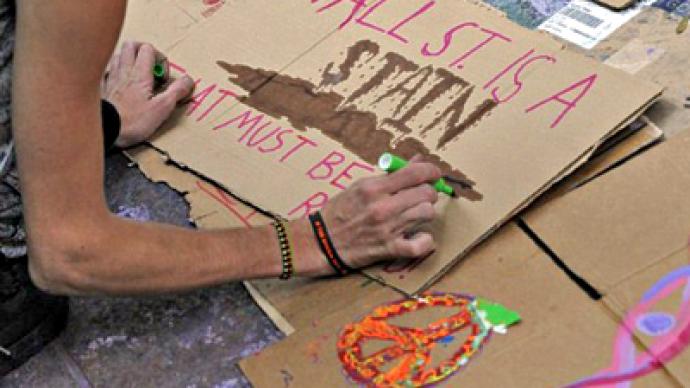 With protests being held in solidarity slated to begin all across the country this weekend, the Occupy Wall Street movement is gaining momentum.
Now the demonstrators rallying against big banks are finding support by way of thousands of unionized workers and their own publication.Wednesday night saw The Transit Workers Union Local 100's executive committee unanimously voting in favor to lend their support to the thousands of protesters that have been gathering in Lower Manhattan to wage a peaceful protest against Wall Street for weeks now. The union collective, which oversees the transit workers in the city of New York, has membership of nearly 40,000.Additionally, SEIU 32BJ, the NYC-based union that represents doormen and security workers, will be using an upcoming rally to also voice their alliance to the thousands that have been gathering in Liberty Park Plaza, just a stone's throw from both the Federal Reserve and Wall Street, Manhattan."Labor is up against the wall and they're begging us to help them," Jackie DiSalvo, an Occupy Wall Street protester, tells the Huffington Post. She adds that recent actions waged by fellow protesters to show support of organized labor has managed to help land the unions on their side.While demonstrations in the vain of the New York City protest have sprung up across the country in recent days, many cities are plotting protests this weekend, including Washington DC. Chicago and Los Angeles have already seen large turnouts of those standing in solidarity with their New York brethren, despite being dislocated by hundreds of miles.Now those rallying are taking to the printing press in order to hope amass even more supporters. Within one day, an in-the-works publication, The Occupy Wall Street Journal, managed to accumulate over $17,000 in donations so that the publishers can begin work on the paper. The organizers behind the paper started a Kickstarter page to garner contributions and there they write that they "want to be the people's media.""The idea is to explain what the protest is about and profile different people who have joined and why they joined. We will explain the issues involved and how the general assembly process operates at Liberty Plaza. It will also offer resources and ways to join. The emphasis will be on quality content, design, photography and artwork that uses incisive humor to make it a lively read," explains the paper in their agenda printed to Kickstartr.Their first projects aims to be a four-page broadsheet newspaper with an intended run of 50,000 copies.
You can share this story on social media: