Occupy protester sues Portland police for notorious pepper-spray incident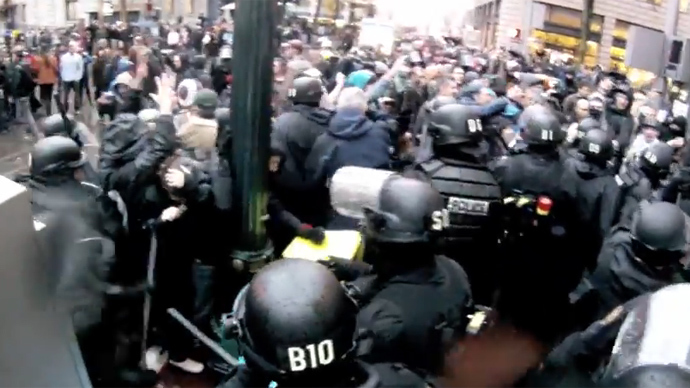 The Occupy Portland protester who was photographed as police doused her with pepper spray is now in court seeking $155,000 for damages caused by alleged police brutality. The photograph became one of the most galvanizing images of the movement.
Elizabeth Evon Nichols was just one of thousands demonstrators who gathered in Portland, Oregon to protest widespread housing foreclosures by major banks. Nichols began shouting at officers as they aimed to move protesters away from the sidewalks.
Both Nichols and Portland police agree that she was shot with pepper spray as she was yelling. The suit alleges that a second officer put a baton to Nichols' throat before she was roughly dragged through the police line and arrested. The trial also addresses whether the officer was acting within his rights when he pepper-sprayed Nichols.
She "actively, physically resisted lawful police instructions to move off the sidewalk," city attorneys wrote in a court motion. The lawyers also claimed Nichols "aggressively moved as if to attack" the police, who acted reasonably in the already high-pressure circumstances.
Two officers and the city of Portland were named in the suit. Nichols and the officers are expected to testify, with defense attorneys telling reporters that they will aim to prove Nichols was "menacing" police before she was sprayed. 
After being sprayed directly in the mouth by Sgt. Jeffrey McDaniel, Nichols "was so overcome by pain that she flinched and spun away from [McDaniel]," the lawsuit states, as quoted by AP. "She hunched over with her hands on her face. After a moment she felt her legs collapsing and sat down on the sidewalk." 
According to the suit, Officer Doris Paisley then dragged Nichols by her hair and charged her with interfering with police. Nichols was convicted in 2012 and ordered to pay $130. 
Nichols' attorneys say the lawsuit is not about money, but rather aims to change the practices of the Portland Police Bureau and reprimand officers for violating their client's freedom of speech. 
Jury selection and opening statements were completed Tuesday, with three men and four women chosen to decide the legitimacy of Nichol's claims. The judge said the case could be up for deliberation by Friday.
You can share this story on social media: