Cops crack down on Occupy San Francisco; 70 arrested
Published time: 7 Dec, 2011 16:31
Edited time: 7 Dec, 2011 20:31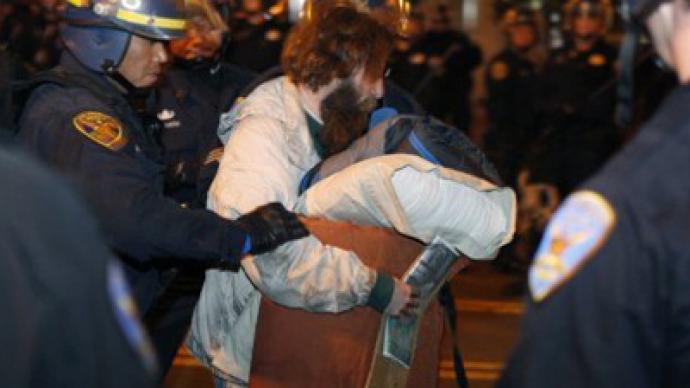 Police clad in riot gear cracked down hard on another Occupy encampment early Wednesday morning, this time dismantling the tent city in San Francisco, California and arresting 70 protesters.
Cops in San Francisco arrived in the city's Justin Herman Plaza shortly after 2 a.m. on Wednesday, a site that, hosting around 100 tents, was perhaps the largest remaining compound of its size that served as a chapter of the Occupy Wall Street movement on the West Coast.
Authorities gave demonstrators but five minutes to dismantle their shelters, gather their belongings and vacate the park, which was not long enough for most to follow orders and safely collect their possessions. Minutes later, around 100 law enforcement agents moved into the plaza and began collapsing the compound.
"They didn't even give much time for anyone to get out," 31-year-old occupier Kris Sullivan from Ohio tells the Associated Press. "They handled it really badly. They could have given us a warning or some sort of eviction notice." Sullivan was able to gather his tent, but lost most of his belongings.
Chief Greg Suhr of the San Francisco Police Department tells Mercury News that the decision to stage the raid on Wednesday materialized after the camp failed to reach a compromise with the city over relocating to a new space for their demonstration. "Negotiations had broken down," Suhr adds to the Chronicle.
Protesters, on the other hand, say police didn't go about the dismantling how they should have.
"A much more simple way to do it would have been direct contact with the mayor and city officials here with us, and even though they've been invited many times, they didn't come," Richard Kriedler tells AP. He adds that San Francisco is "a very emotional town," and that the impromptu crackdown "is not going to go over well."
"This could have been handled a lot better," adds Kriedler.
Police reportedly told protesters that they would be able to collect their lost possessions from the Department of Public Works at a later date, but a report from Reuters reveals that many of the items were shoveled into garbage trucks as cops cleared the compound.
As police moved into the plaza, 30 protesters were arrested for failing to vacate the plaza, reports the San Francisco Chronicle. Another 40 blocked access to authorities on nearby Market Street in protest, the paper adds. As a result, arrests in all totaled 70 on Wednesday morning. Officer Albie Esparza tells reporters that charges range from failure to disperse to illegal lodging.
"Most of the protesters went peacefully," Esparza adds. Authorities could not confirm any physical harm to the demonstrators, but Richard Kriedler with Occupy S.F tells AP that some of the participants indeed suffered injuries, though could not offer specifics.

As per police orders, reporters and photographers were barred from coming near the compound, following a trend evident in crackdowns in other cities that has banned journalists from justly documenting the raid.
Despite a media blackout and growing crackdowns, however, protesters say that this blow won't be the nail in the coffin for OWS.
"We will come back and reoccupy," Gene Doherty, 47, tells AP. Another protester, 21-year-old Anthony Kramer, said, "We're not going to give up that easily."