Pedal power: NYC museum rolls out OWS bikes to alleviate Sandy fallout
A New York museum hosted at the legendary C-Squat in Manhattan has put an exhibit from the Occupy movement into community service as part of Hurricane Sandy relief. An OWS bike generator is now getting battery-depleted phone-owners back online.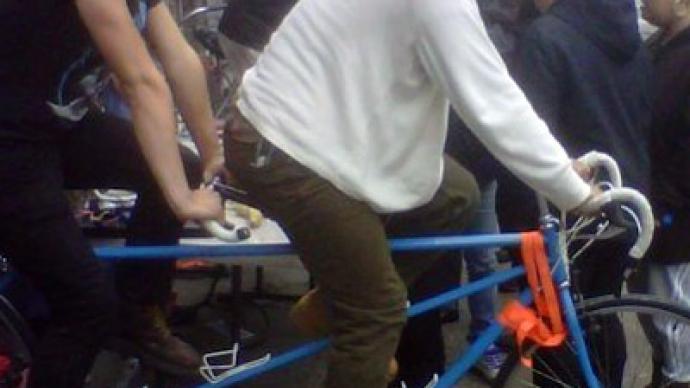 The Museum of Reclaimed Urban Space (MoRUS), together with the squat residents, managed to rescue its collections after its basement was flooded. Among them is a bike generator, which members of the OWS used during their sit-ins.Now the bike is being put to good use providing the community with free mobile phone charging."MoRUS has set up Occupy Wall Street bike generators on Avenue C between 9th and 10th Streets. For the past two days, volunteer riders have been pedaling as crowds of people gather to charge up their cell phones. For many people, this has been the first time they've been able to contact loved ones after Hurricane Sandy hit," the museum said Thursday.Meanwhile the residents of C-Squat have set up two grills and are receiving food donations to essentially feed the neighborhood. They also pumped out the water from the bar next door and the deli on the corner, according to a New York Natives report.As of Thursday, 900,000 New Yorkers were living without power due to blackouts caused by Sandy. The power company Con Edison said it will be able to restore supply for all of them by November 11. It pledged midtown and lower Manhattan will have power Saturday. Company officials said about 280,000 customers are already back on the grid.
After Sandy hit, OWS used its social capital, raised through political protesting, to rally volunteers for a relief drive, joining such established organizations as the American Red Cross. Occupiers used tested tools of the social media to coordinate the effort and help smaller communities, where government relief organizations may not have arrived promptly. Volunteers were distributing donated clothing, food and other needed stuff in neighborhoods like Red Hook, Sunset Park, Coney Island and the Rockaways.C-Squat is located at 155 Avenue C in the East Village of Manhattan. It's one of many abandoned buildings in the area, which was taken by squatters in late 1970s and early 1980s. The place is famous for hosting punk and death metal band shows and skating events.
You can share this story on social media: