Obama praises Afghan war effort in surprise troop visit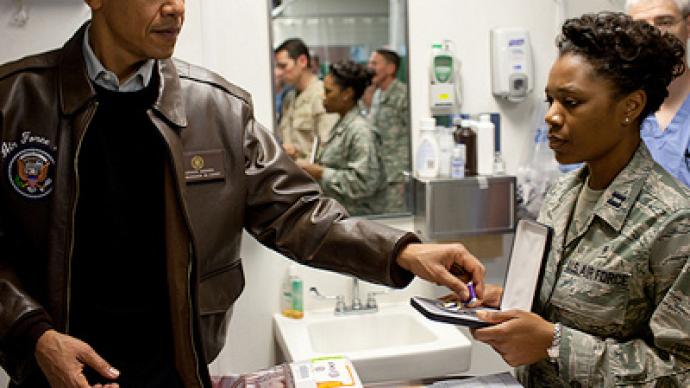 US President Barack Obama made a surprise visit to Afghanistan, where he praised US and Coalition troops and said his administration's combat surge has effectively weakened the Taliban.
The timing is not all to surprising however, given both the holiday season and the upcoming report on the war. In a matter of days the US president is set to receive a comprehensive assessment of the war effort that will be looking specifically at thesurge of 30,000 additional troops.Afghan war veteran Jake Diliberto from Rethink Afghanistan said the US still doesn't know what it is doing in Afghanistan. Between nation building and fighting the Taliban, which is an evasive and dubious enemy, it is unclear what success the US has achieved, he explained. As of now, there is no end in sight for the global War on Terror.The Taliban is made up of a rural Pashtun conservative religious Muslim tradition. "They're not anything that is predictable. They don't operate in the way that westerners or Europeans think," said Diliberto. "The Taliban have been in place there for about 45 years, but that old school ideology religious framework has been in place for as long as Afghanistan has been there going back for thousands of years." Afghanistan is not major threat to the United States, he argued. Forces should target al-Qaeda and not be focused on nation building in Afghanistan and Iraq. The US needs to get out of Afghanistan and focus on combating terrorism. "When you want to get out of a war, you get out of a war," Diliberto commented.A well resources partnership with the international community is needed to combat al-Qaeda. It is not possible to eliminate terror, but we can combat it, contain it and keep Americans safe, he said.WikiLeaks revealed a different view by US diplomats of Afghan President Hamid Karzai, showing him as corrupt, erratic, and willing to engage in criminal dealings to stay in power. This is contrary to the public statements on the US-Afghan relationship. Looking forward, Obama explained in a speech to the US troops that progress had been made in Afghanistan and a transition to Afghan responsibility will move forward for the long term. His message was not to unfamiliar with one from the past. "We have adopted a plan which we have worked out in cooperation with (insert country here) for the withdrawal of all US combat ground forces, and their replacement by (insert country here) forces on an orderly scheduled timetable. This withdrawal will be made from strength and not from weakness. As (insert country here) forces become stronger, the rate of American withdrawal can become greater," read a transcript of a speech given by Richard Nixon regarding the US war in Vietnam in 1969.