US Marines en route to South Sudan to help possible evacuation - reports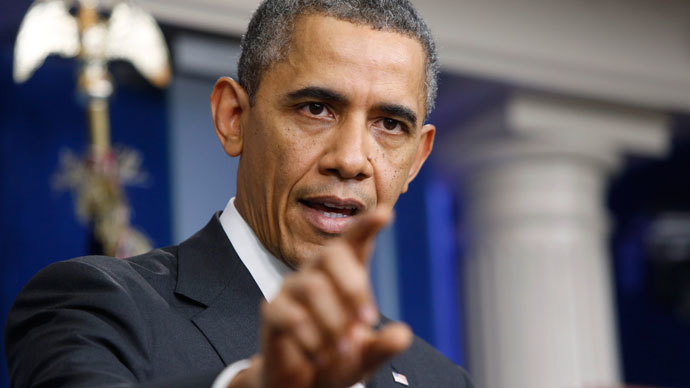 Approximately 150 US Marines are making their way to the Horn of Africa in the likelihood that they will be ultimately sent to South Sudan in order to evacuate Americans and protect the US Embassy in the war-torn nation, according to various reports.
The US State Department has not yet requested assistance, although a senior US Defense official told Fox News that the 150 troops are traveling from Spain and will likely await instructions at Camp Lemmonier in Djibouti. Military aircraft is also on hand in the event they are called in. Dozens of US troops are already in Sudan providing security.
US President Barack Obama warned members of Congress Sunday that American efforts in South Sudan could be ramped up in the coming days as the security of US citizens and others in the East African nation are increasingly put at risk.
An attempted rescue mission waged by the US on Saturday to try and remove Americans currently residing in the embattled nation was aborted after rebel fighters reportedly aligned with former South Sudan Vice President Riek Machar opened fire on US planes, injuring four.
Three of those injured are in stable condition at the US military hospital in Germany while the fourth continues to undergo treatment in Nairobi, Kenya.
Around 380 American citizens and around 300 others have been evacuated by the US from the city of Juba so far, but on Sunday the president sent a letter to select congressional leaders informing them that he may advise the military to increase its efforts.
"As I monitor the situation in South Sudan, I may take further action to support the security of US citizens, personnel, and property, including our embassy, in South Sudan." Obama wrote on Sunday.
In that same statement, the president said he had approved the deployment of around 46 additional US troops a day earlier to assist with evacuation plans. Previously, 45 more were sent to reinforce the American Embassy in Juba, but the surge meant to aid with evacuation efforts was aborted when rebels began firing at US aircraft. The four service members injured are reportedly in stable condition.
"The US government is doing everything possible to ensure the safety and security of United States citizens in South Sudan," Department of State spokesperson Jen Psaki told reporters in an emailed statement over the weekend. "We are working with our allies around the world to connect with and evacuate US citizens as quickly and safely as possible. For their safety and security, we will not outline specific evacuation plans."
According to the Los Angeles Times, however, White House officials said Pres. Obama's latest remarks should not be interpreted as an escalation of US military operations.
"Mr. Obama's letter is consistent with the War Powers Resolution of 1937," New York Times journalist Ashley Parker added on Sunday, "which requires the president to inform Congress within 48 hours of committing armed forces to military action, and does not necessarily mean that the administration plans further increases in its military operations in the region."
On Sunday, Psaki told reporters that "The United States and the United Nations, which has the lead for securing Bor airport in South Sudan, took steps to ensure fighting factions were aware these flights were a humanitarian mission," adding that all Americans who made their way to the UN camp there had been evacuated.
By Monday, however, CNN was reporting that rebels had seized Betiu — the capital of the oil-rich South Sudan state of Unity — further jeopardizing the security of those whose future may depend on whether or not American troops can enter the region and evacuate civilians stuck in the landlocked nation.
"Bentiu is not currently in our hands," the South Sudanese government announced over through its Twitter account. "It is in the hands of a commander who has declared support for Machar."
On Monday, the Twitter account for the US Mission in Juba was still receiving messages from the families of American citizens who were reaching out for assistance with regards to evacuating their loved ones.
Around 3,000 foreigners from the UK, Canada, Kenya and elsewhere were in Bor awaiting evacuation on Monday, the Associated Press reported. The humanitarian coordinator of the UN was blaming the civil war for upwards of 1,000 casualties so far.