Obama falls behind Romney in polls after endorsing gay marriage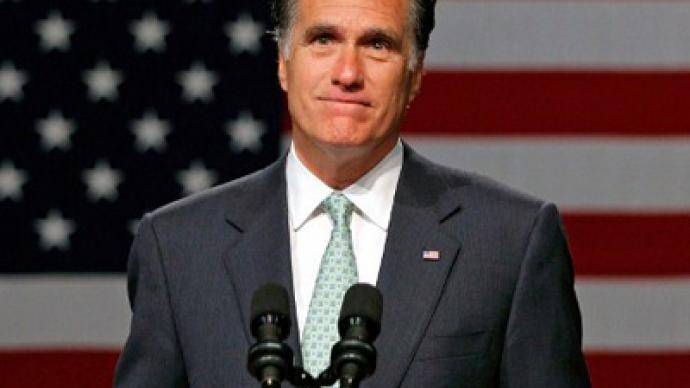 President Obama's re-election campaign roped in millions of dollars in donations this week after the incumbent formally endorsed same-sex marriage for Americans. According to the latest polling, though, that might not be enough to cinch another term.
The results of Rasmussen Reports' most recent presidential tracking poll reveal that US President Barack Obama is behind Republican Party frontrunner Mitt Romney by as much as seven percentage points. The research group's latest results, published early Friday, suggests that only 43 percent of the American public would be willing to right now cast a ballot to re-elect President Obama; Romney, the former governor of Massachusetts, received 50 percent of the vote.Rasmussen confirms that this is the first time that their daily tracking poll has put support for Romney at or above the 50 percent mark. It also makes his largest lead ever over President Obama.The results of the poll were published by Rasmussen on Friday morning and, according to the company, come from answers conducted during a telephone survey of 500 likely voters per night and reported on a three-day rolling average basis. Additionally, Rasmussen Reports relies on an online survey tool to question additional participants off the Web, and in all say they polled from a sample of 1,500 people with a margin of error of +/- 3 percentage points.A separate study published on Thursday out of Quinnipac University in Ohio suggests that Obama could be ahead of his opponent, but only barely if so. In that poll, the incumbent is allocated the most support from likely voters, but only wins the survey by a one point margin. In that poll, Obama just inches past Romney with 45 percent of the votes to the Republican's 44.Aside from the statistics, it was a major campaign week for both candidates. Down the road, however, this weeks' happenings could very well shape the rest of the race for the White House.President Obama made headlines around the globe earlier in the week by formally announcing that he supports same-sex marriage for Americans. In the immediate aftermath, his campaign announced that they had raked in millions of dollars in contributions for his re-election but Rasmussen's results may signal that those on the fence may have been put off by his newly announced stance. Similarly, Romney's lead comes hours after allegations of anti-homosexual behavior as a youth surfaced.In a video released to the Web from the Obama campaign on Thursday, Romney is portrayed as being "backwards on equality."Given Rasmussen's statistics, that might be just want America wants.
You can share this story on social media: