Obama pollutes and spends to get fit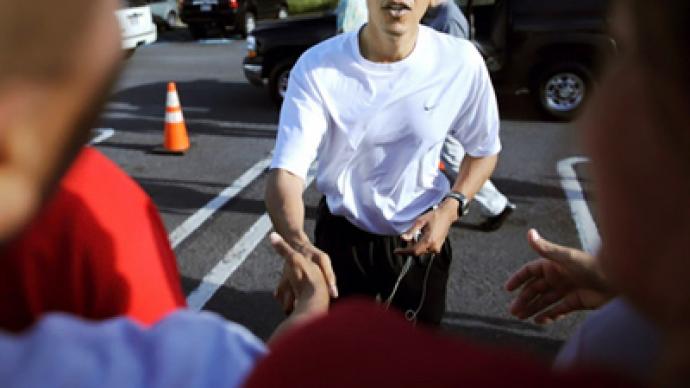 Apparently Washington fitness trainers aren't good enough for Obama. The US President spends cash and pollutes the air to fly one out from Chicago on a near weekly basis.
Increasing his carbon footprint, US President Barack Obama often flies his personal trainer from Chicago to Washington. DC is known for being one of the fittest cities in America, but local trainers simply won't cut it. Fitness trainer Cornell McClellan has managed the workout routines for the Obamas for years. He is the architect behind first lady Michelle Obama's well toned arms. Based in Chicago at Naturally Fit, McClellan normally spends part of his week in Washington at the President's personal request."It was an easy sell for me, because I thought of it as kind of a duty, to serve the President," McClellan said. "He is very motivated and he loves to work, so that makes it very easy for me."McClellan typically spends two to four days a week at the White House helping both the President and the First Lady achieve their workout goals.While McClellan spends a few days a week in Washington, it is unclear how often he flies down, understanding the President and First Lady are not always in Washington. That being said, flying in one's personal trainer after ordering federal employees to cut back on business travel to cut costs and curtail carbon emissions is quite contradictory.
You can share this story on social media: