Defiant Obama seeks peace with Taliban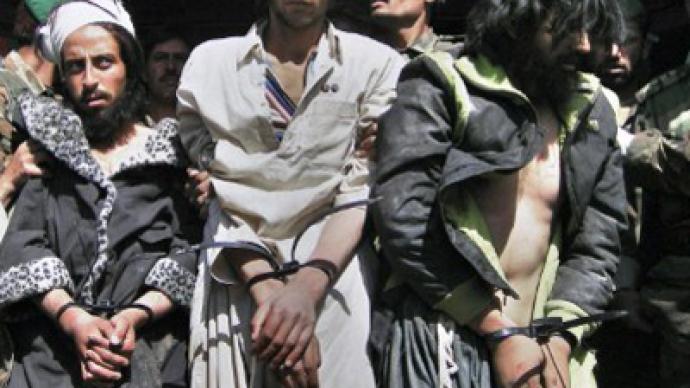 Never mind 9/11. American authorities are all set to exchange top Taliban officials with the Afghanistan government in hopes of coming to a truce between Washington and Kabul.
High-ranking insurgents with ties to the Taliban will be released from American custody and shipped out of Guantanamo Bay if the deal materializes. The US is agreeing to free the alleged terrorists in exchange for Afghanistan's agreement to cooperate with peace talks and open a political office in the nation of Qatar.
To some, it's a move that only cements what many have said all along — that the America's war in Afghanistan, the lengthiest the US has ever involved itself in — was waged for nothing.
"I think this marks that point in time where there's an admission, maybe not openly, that we're not going to achieve a military overwhelming dominance with the Taliban," Lt. Col. Anthony Shaffer from the Center for Advanced Defense Studies tells RT. "I think the idea of releasing these individuals without an idea of what we're getting in return is not really a good idea and I think it's almost an act of desperation."
Sources within the Obama administration say that the prisoners will be freed as long as the Taliban continues plans to open an embassy of sorts in Qatar to begin negotiations. On Tuesday, the Taliban said they were prepared to go ahead with such plans so that the group can begin talks "with the international community" at large. Those talks will come more than a decade after al-Qaeda insurgents with links to the Taliban waged a strike on the World Trade Center, prompting the US to quickly retaliate with 10 years of fire.
Those talks will also come at a costly price for the American intelligence community, who are expected to release a handful of significant Taliban contacts as part of the deal. According to sources close to the deal, former Taliban commander Mullah Fazl Akhund  with be freed from Gitmo, as will Mullah Khair Khowa, a former interior minister, and Noorullah Noori, a former governor in northern Afghanistan. Fazl has been detained over allegations that he helped orchestrate a massacre of thousands of Shiia muslims.

"To take this step, the [Obama] administration have to have sufficient confidence that the Taliban are going to reciprocate," cautions former Obama aid Vali Nasr to the Guardian. "It is going to be really risky. Guantánamo is a very sensitive issue politically."
"The next phase will need concessions on both sides. This doesn't mean we are now on autopilot to peace," Nasr adds.
Only after a decade, talks could finally yield a halt in battle between Afghanistan and America and its allies. Along the way, al-Qaeda leader Osama bin Laden was executed after a lengthy manhunt without trial and nearly 2,000 American troops were killed during Operation Enduring Freedom. The death toll accounting for Taliban members, insurgents, Afghan troops cooperating with America and civilians has come close to 100,000.
Last month, US Defense Secretary Leon Panetta said that America was "winning this very tough conflict" and said that the war was moving "in the right direction." By the close of 2011, however, over 400 Americans were killed in battle, marking the highest annual statistic since the war started, second only to a period in late 2001.
Even if negations begin, that might not mean America will be quick to vacate Afghanistan, either.
"My hope is that we maintain a long-term relationship with Afghanistan, that we don't just simply pick up and get out," Panetta said last month from a US base in Pakika province. "We spilled too much blood here."