Obama sued over indefinite detention and torture of Americans act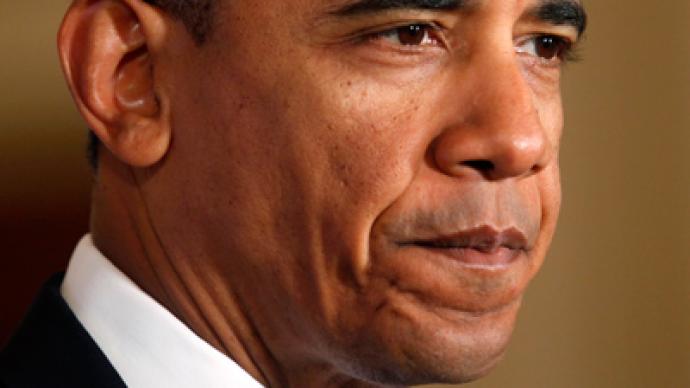 In the past, journalist Chris Hedges has worked for NPR, The New York Times and the Christian Science Monitor. In his latest endeavor, however, he is teaming up with an unlikely pair: a couple of attorneys that will help him take on the president.
US President Barack Obama is the target of a suit filed by Pulitzer Prize-winner Hedges, and the reasoning seems more than obvious to him. The decision to take the commander-in-chief to court comes as a response to President Obama's December 31 signing of the National Defense Authorization Act, or NDAA, a legislation that allows the US military to detain American citizens indefinitely at off-site torture prisons like Guantanamo Bay.
Obama amended the NDAA with a signing statement on New Year's Eve, insisting that while the Act does indeed give him the power to detain his own citizens indefinitely without charge, that doesn't mean he will do so. Specifically, Obama wrote that his administration "will not authorize the indefinite military detention without trial of American citizens." Under another piece of legislation, however, the government is being granted the right to suspend citizenship of any American if the Enemy Expatriation Act joins the ranks of the NDAA as an atrocious act approved by the president.
"Once again, you just have to be accused of supporting hostilities which could be defined any way the government sees fit. Then the government can strip your citizenship and apply the indefinite detention section of the NDAA without the benefit of a trial," journalist Stephen Foster Jr. wrote earlier this month of the Act.
In a blog post published on Monday to TruthDig.com, Hedges announces his effort to take Obama to court, and says his team of attorneys will challenge the president over the legality of the Authorization for Use of Military Force, a provision promised under the NDAA.
In his explanation, Hedges says the signing signals "a catastrophic blow to civil liberties."
"I spent many years in countries where the military had the power to arrest and detain citizens without charge," writes Hedges. "I have been in some of these jails. I have friends and colleagues who have 'disappeared' into military gulags. I know the consequences of granting sweeping and unrestricted policing power to the armed forces of any nation. And while my battle may be quixotic, it is one that has to be fought if we are to have any hope of pulling this country back from corporate fascism."
Like other NDAA opponents, Hedges addresses in his explanation the issue that vague verbiage throughout the legislation creates an almost open-ended scenario for the government to grab anyone in America and put them behind bars. Instead, rather, the legislation leaves American authorities to go after anyone it can use the Act to attack.
As an international correspondent and world-renowned journalist, Hedges has traveled the globe and says he has been put in some hairy situations. Under the NDAA, he says, he might as well be considered a war criminal in the eyes of America.
Under NDAA, the military can enforce indefinite detention on anyone "who was a part of or substantially supported al-Qaeda, the Taliban or associated forces that are engaged in hostilities against the United States." As Hedges and others point out, groups such as "associated forces" are never defined, nor are determinations like "substantially supported."
"I have had dinner more times than I can count with people whom this country brands as terrorists," writes Hedges. "But that does not make me one." Regardless, any affiliation with a group branded as such could lead authorities to leap to such conclusions.
Everyone from presidential candidate Ron Paul to the American Civil Liberties Union have questioned Obama's intentions in signing the NDAA, but Hedge's lawsuit is the first legal filing lobbed at the president. Regardless of what the president intends by putting the NDAA into law, ACLU Executive Director Anthony Romero wrote, "Obama's action … is a blight on his legacy because he will forever be known as the president who signed indefinite detention without charge or trial into law."
Hedges thinks he knows what those intentions are, however.
"I suspect the real purpose of this bill is to thwart internal, domestic movements that threaten the corporate state," says Hedges. "The definition of a terrorist is already so amorphous under the Patriot Act that there are probably a few million Americans who qualify to be investigated if not locked up." When that piece of legislation is coupled with NDAA, the end result could be catastrophic.
"I suspect it passed because the corporations, seeing the unrest in the streets, knowing that things are about to get much worse, worrying that the Occupy movement will expand, do not trust the police to protect them," concludes Hedges. "They want to be able to call in the Army. And now they can."