Will Obama end up on Mount Rushmore?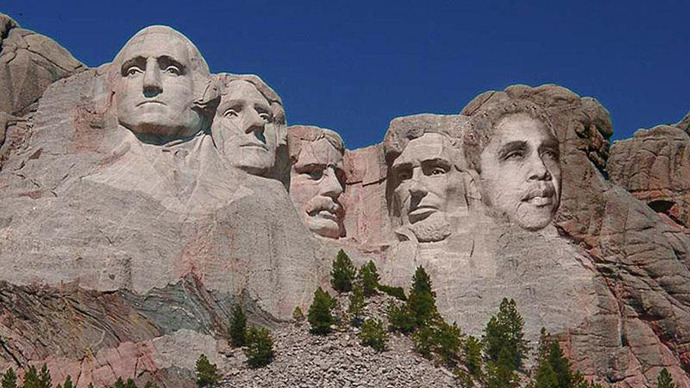 A 60-foot version of President Barack Obama's face will eventually be carved into Mount Rushmore, forever gazing down from the historic mountaintop beside the faces of four other US presidents. At least, this is what some college professors predict.
Immortalized as a giant granite carving towering over South Dakota, Obama would always be remembered as the first African-American president. Nothing he does in the White House will take away from that fact, which has led thirty percent of George Washington University professors to believe he will end up on Mount Rushmore, according to a new survey conducted by The College Fix.
 "History undoubtedly will accord President Obama a special place by virtue of being the first African-American president," said Prof. Paul Wahlbeck, chair of the political science department at GW. But although Wahlbeck confidently acknowledged his belief that Obama will soon join the faces of George Washington, Thomas Jefferson, Abraham Lincoln and Theodore Roosevelt, he said he is also "reluctant to venerate political leaders while or shortly after they served."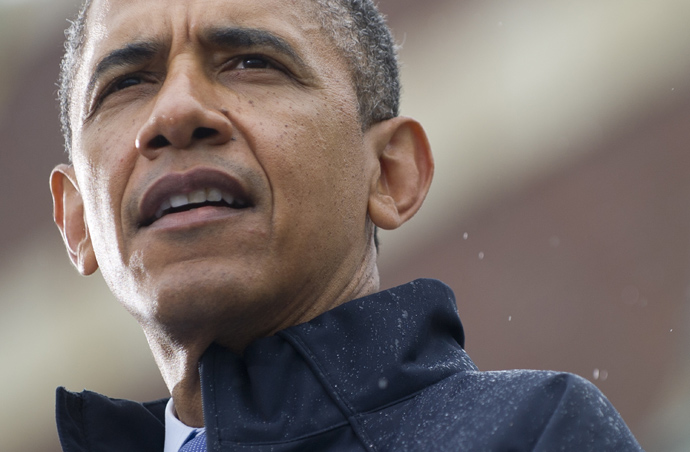 Two other professors mirrored Wahlbeck's thoughts, all stating that it is too early to make plans regarding the addition of Obama's face, but that it could happen in the distant future.
"Historical judgments take time to form and Obama is still in office," history and public policy professor Edward Berkowitz told The College Fix. "It could be that he will be one of the great presidents, worthy of having his likeness carved on a mountain, but certainly not yet."
The GW survey size was small, consisting of only 10 respondents, but the news has nevertheless sparked a debate on whether or not the current president belongs among the ranks of America's most celebrated leaders. Six of the respondents said Obama does not deserve a place on Mount Rushmore, which has not added a president since the memorial was completed in 1941. But while the professors warned that it is too early to worship a president who is still in office, some Americans have already begun to advocate for Mount Rushmore's addition of Obama.
A Facebook page titled the "Campaign to Put President Obama on Mt. Rushmore" already has more than 800 "likes". The page depicts an image of Mount Rushmore, with Obama's face added via Photoshop. The idea has also been brought up numerous times throughout Obama's terms in office.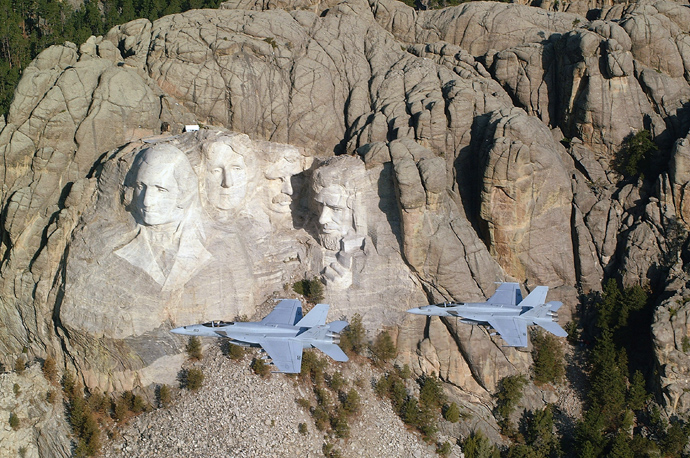 In November, Huffington Post blogger Bill Lucey examined the feasibility of adding another head to Mount Rushmore. The U.S. National Park Service claims that there is no additional room to add a granite carving to the site, but some organizations continue to advocate it.
"Mount Rushmore and Mr. Obama are invoked so frequently in the same sentence that I began to wonder if in fact there is a movement in place to chisel the 44th president on the South Dakota mountainside," Lucey writes.
But even if a 60-foot version of Obama's head doesn't end up in South Dakota, he has already been memorialized on parts of the American landscape. In Pennsylvania, an international magnet school was named "The Barack Obama Academy for International Studies" just two years after he took office. A Florida street was named "Barack Obama Avenue" in Feb. 2009 and an Orlando parkway was named "Barack Obama Parkway".  Across the US, several other schools have been named after the president, including elementary and high schools in New Jersey, New York, Wisconsin, and California. Even though Obama is unlikely to find himself on Mount Rushmore anytime soon, his name has already arisen on street signs, parkways and schools, despite the fact that his presidential legacy may have not yet been formed. 
You can share this story on social media: