Obama discusses fate of Megaupload's Kim Dotcom with New Zealand prime minister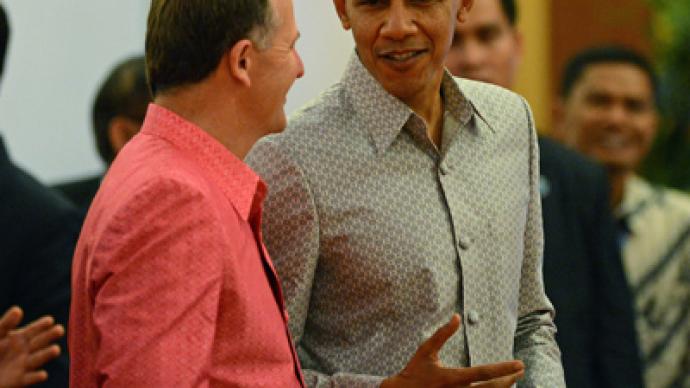 The United States remains stuck as to how to handle its perpetually collapsing copyright case against Megaupload, but the now defunct file-storage website and the New Zealand resident who ran it are still being discussed at the highest level.
According to a confirmation from New Zealand Prime Minister John Keys to NZ's Stuff, the Kiwi commander chatted with US President Barack Obama this week about the ongoing matter of Megaupload and Kim Dotcom, the German-born founder of the site who has been at the center of an international scandal ever since his Coatesville, New Zealand mansion was raided in January.Stuff reports that Mr. Keys had a private one-on-one with Pres. Obama while the two were in Cambodia this week for the East Asia Summit, but the prime minister has refused to go into specifics about what may have been said about Dotcom."I'm not going to go into those details. I had a little chat to him, yep, about a whole range of issues. I have private conversations with people all the time," Key said.That was enough for Dotcom to intervene and ask the prime minister to put some pressure on Pres. Obama. "@JohnKeyPM ask @BarackObama to give us green cards so we can come and help Hollywood to build a proper Internet business," Dotcom wrote from his Twitter account, accompanied by a winking emoticon.In a follow up plea, Dotcom tweeted, "Dear friends, please ask @BarackObama to embrace #Innovation & #InternetFreedom in his 2nd term as President."Dotcom has been in hot-water with the US since before the January 2012 raid and arrest that occurred along with a Justice Department seizure of Megaupload, at one time one of the ten most visited websites in the world. In the ten months since before targeted by the DoJ, though, the Obama administration has done seemingly noting to advance their case, aside from the occasional touting of the site's shutdown as a supposed victory against copyright infringers and intellectual property thefts. For now, Dotcom awaits a ruling expected next year that will determine if he can be extradited to the United States for prosecution, but he has already volunteered to travel to the US himself if it means he will receive a fair trial. This week, Dotcom confirmed that the Justice Department has deferred from answering his request."We formally offered to the DOJ that we would go to the US if they guarantee bail & unfreezing of funds for legal fees. They never replied," he tweets.