To bomb or not to bomb? Obama and Netanyahu meeting will be all about Iran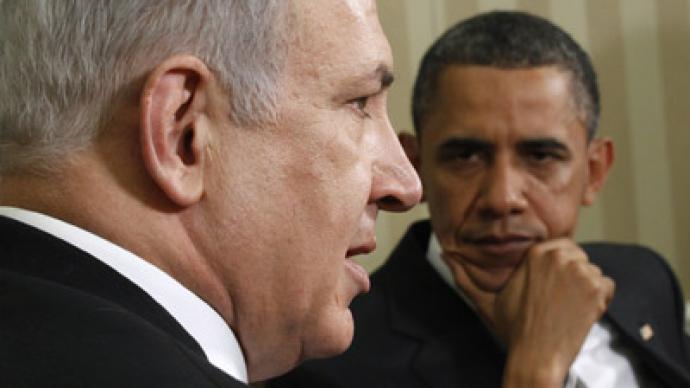 US President Obama will meet with both the America-Israel Political Action Committee and Israeli Prime Minister Netanyahu this week; with Jerusalem and Washington at odds over Iran, however, that issue is likely be the only one up for discussion.
There will be a heavy Israeli presence in Washington this week with US President Barack Obama scheduling conferences with both AIPAC leaders and Israel PM Netanyahu. Those engagements for Obama will bookend the annual AIPAC conference in the US capital, but this year's meetings could not have come at more unusual time as tensions between the two nations are at their worst in decades. Notwithstanding a strong and consistently controversial alliance, both the US and Israel are currently disputing the issue of Iran and how a rumored nuclear program there could put a weapon of mass destruction in the hands of Tehran. Despite urging from Israel to preemptively act on Iran before they can procure a nuclear warhead for themselves, the US has remained hesitant to use force on Tehran. For now, Obama has relied on words, warnings and sanctions to scare Iran away from any program that could put a nuke overseas. Israel, however, has repeatedly asked America to act on Iran before events escalate any further. As the zero hour approaches over a rumored Iranian nuke, this weekend's talks are expected to almost exclusively serve as a preemptive war room roundtable.Senior Israeli officials speaking to that country's Haaretz news outlet say that the March 5 meeting between Obama and Netanyahu will involve one-on-one talks to try and ensure that America acts against Iran. According to the official speaking on condition of anonymity, Israel wants America to be well aware that they will act themselves on Iran if research on the rumored nuclear program calls for it. As a result, Israel hopes that America will finally perceive the threat as a dangerous one to their allies and themselves and respond accordingly.To Haaretz, other sources say they suspect that Netanyahu is heavily relying on Congress and Republican candidates for the presidency to pressure Obama towards a strike. Former House speaker and GOP presidential hopeful Newt Gingrich will also be in attendance at this week's AIPAC event and is expected to attack Obama over his reluctance to side against Iran already with force. Speaking earlier this month to CNN about how he would aid a threat against Israel, Gingrich said, "I would say, if you believe the survival of your country is at stake, what is it we could do to help you?""People should not kid themselves. The Israelis are not going to take the risk of a second holocaust. And that is exactly what (Iranian President Mahmoud) Ahmadinejad with a nuclear weapon represents," added Gingrich. The speaker has also insisted during earlier engagement that the joint missile drill between the US and Israel was postponed earlier this year as a result or urging from Obama, "so as not to be provocative." Israeli intelligence, on the other hand, has suggested that it was Netanyahu who postponed the drill as a warning to Iran that they would be ready to strike with or without American assistance. That missile exercise, the Austere Challenge 12 drill, was originally scheduled for this April but has been since postponed until later in 2012. When it does go underway, thousands of US troops and the country's most remarkable missiles will be deployed to Israel.In Washington, other Republican leaders have come to the aide of Israel despite hesitancy from the Obama administration. Former presidential candidate, Senator John McCain, recently remarked that it was unfortunate that the US and Israel were not seeing eye-to-eye over Iran, adding, "We would like to see the United States and Israel agree on course of action that will lead us toward a goal we both share." Those remarks were offered as a response to reports from Jerusalem that PM Netanyahu referred to US Joint Chiefs of Staff Chairman General Martin Dempsey as a "servant of Iran" last month.With the president polling poorly among voters when poised against his GOP rivals, it is likely that added heat by way of Republican-reared rhetoric will only influence Obama to align himself more fully with Israel after this week's meetings. The AIPAC conference in Washington, DC formally goes underway March 4 and will host speeches from Obama and Netanyahu, as well as Israeli President Shimon Peres, US Defense Secretary Leon Panetta and several congressional leaders from both sides of the aisle.
You can share this story on social media: