Oakland dedicating anti-terrorism funding to surveillance supercenter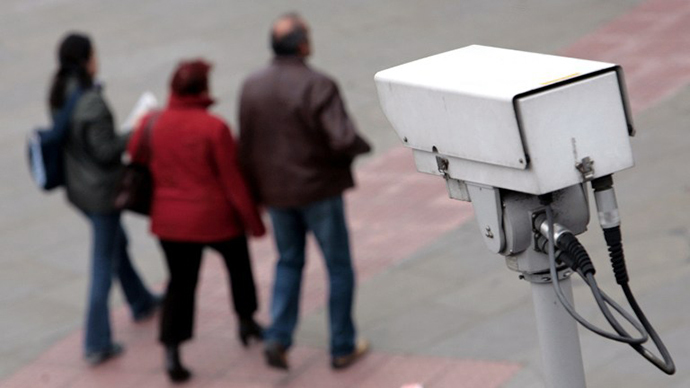 Lawmakers in Oakland intend to spend millions of dollars awarded to the California city in a federal grant to a police dragnet that promises to examine surveillance footage, riling critics who assert the intention of the grant was to stop terrorism.
When the new program debuts in approximately one year police will be able to track drivers as they travel through tolls, scan license plates with the roughly 3,000 surveillance cameras placed throughout the city, and monitor social media platforms to learn about crimes before they occur. 
The Oakland program, officially referred to as the Domain Awareness Center, according to the New York Times, comes at a time when police departments across the US are using federal money to launch similar surveillance efforts modeled after the New York Police Department. The NYPD, which operates within New York City as well as far outside, has used federal grants to build a massive surveillance network capable of linking cameras and license plate readers to criminal and suspected terrorist databases. 
The Domain Awareness Center also plans to plant gunshot detection sensors through Oakland, which is consistently ranked among the most dangerous cities in the US. Forbes magazine reported that violent crime affects 1,683 of every 100,000 residents in the city, making it the third most dangerous city in America with a population between 100,000 and 499,000 in 2013.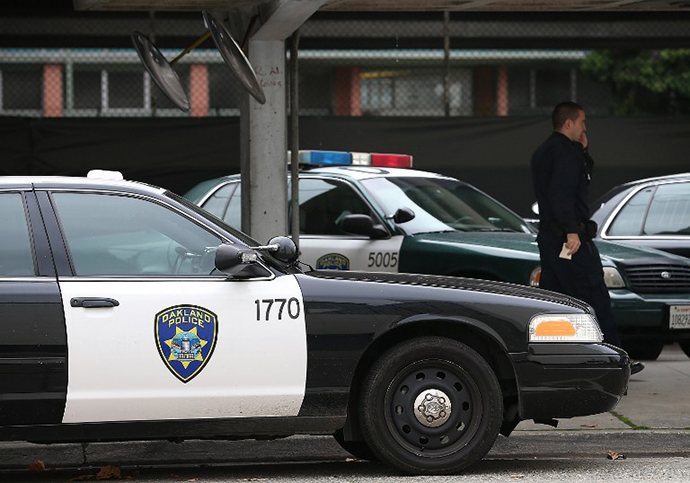 The Oakland City Council voted unanimously on July 31 to adopt the plan to build the surveillance center, which officials have said will be staffed 24 hours a day. Lawmakers voted at the same meeting to ban hammers and spray paint cans at protests in fear that the items will be used as weapons. Waiting outside, protesters admonished council members with chants of "Shame! Shame! Shame!" 
"The Domain Awareness Center is the guard tower which will watch over every person in the city of Oakland," shouted demonstrator Mark Raymond, as quoted by the San Francisco Chronicle. "This program is an attempt to criminalize and imprison all people who live and pass through Oakland." 
All told, the surveillance center's costs are expected to total $10.2 million in federal grants, and while legislators said they were cognizant of residents' security while drafting the bill some representatives were shouted down. 
"We have tried our best to find the sweet spot where are going to take advantage of the tools that we have at hand to make our city safe…We have done everything we can to safeguard privacy," said councilwoman Libby Schaaf before she was cut off by jeers and one protester who suggested she "go home to your mansion and kill yourself." 
Schaaf did admit that, while police have traditionally needed just a small evidence sample to arrest a suspect, the new center will have the capability to "paint a pretty detailed picture of someone's personal life, someone who may be innocent." 
Oakland was awarded a federal grant to ramp up security near the Port of Oakland, a thriving cargo center that is one of the busiest in the US. The 19-mile waterfront is the fifth-busiest container port in the US, with 1,800 ships arriving every year, according to the San Francisco Chronicle. Over $14 billion in goods were exported from the bustling hub in 2012. 
To protect the port, and watch civilians throughout the region, Oakland signed a contract with Science Applications International Corporation (SAIC) to build the Domain Awareness Center. The company, which earns most of its $12 million in annual revenue from military contracts, also worked with the NYPD but later paid $500 million to avoid a federal prosecution for receiving illegal kickbacks. 
The Times reported that this project is not the first time Oakland has sought to develop such technology. A city audit viewed by the paper revealed that lawmakers spent nearly $2 million in 2012 alone on police tools that did not work or could not be used for a variety of reasons. 
Linda Lye, an attorney with the American Civil Liberties Union, said this project might work as intended, but that mere intention already creates a scary problem. 
"What they did is approve a vast surveillance center without understanding the implications," she said earlier this year. "The privacy policies would be drafted only after the center is built. At that point, what opportunity will there be for to determine if the safeguards are sufficient?"
You can share this story on social media: