Dozens of convictions in question as NYPD detective said to have falsified murder confessions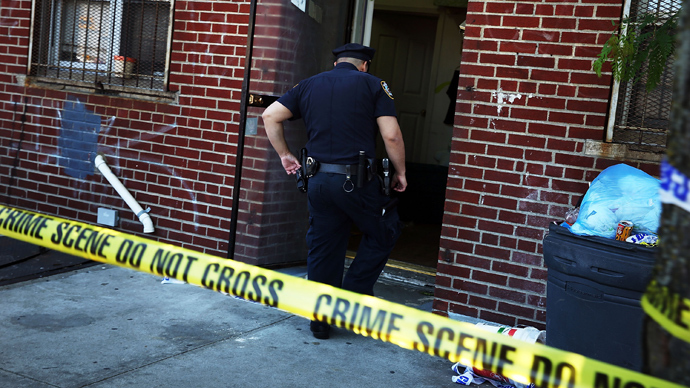 Brooklyn prosecutors are examining 50 homicide convictions involving a retired police detective who may have intimidated suspects into confessing to crimes they never committed – with words he chose.
Louis Scarcella was a celebrated member of the Brooklyn North Homicide squad through the crack-cocaine epidemic of the 1980s and 1990s, when he gained a reputation for his unusual ability to draw out confessions. He investigated about 175 murders alone and helped with almost 200 more, but questions have been raised on whether Scarcella coerced, or even entirely fabricated, the admissions of guilt. 
The inquiries began after David Ranta was released from prison earlier this year. Ranta, once a drug addict and petty criminal, spent nearly 23 years in prison for the 1990 murder of a Brooklyn rabbi, despite no physical evidence linking him to the crime other than a confession statement he maintains he didn't write. The investigating detective was Louis Scarcella. 
Upon reviewing the cases Scarcella was involved in throughout his 29-year career with the NYPD, The New York Times discovered some alarming coincidences among the confessions. In at least five, the suspects begin their statement with the phrases "You got it right" or "I was there." Ranta's statement, which he has always denied delivering, begins, "I was there." 
Scarcella relied on a drug addicted prostitute to act as a witness in at least six different, unconnected murder trials. Teresa Gomez has since died, but lawyers said she was "Louie's go-to witness," despite major credibility issues. One prosecutor wrote, according to New York news and culture blog Gothamist, that "It was a near folly to even think that anyone would believe Gomez about anything." 
The Conviction Integrity Unit, a section of the Brooklyn district attorney's office, refused to identify the 50 cases under inspection, though observers to the investigation fear dozens of innocent men may have been imprisoned only because they were investigated by a corrupt NYPD detective. 
Lawyers for other defendants, almost all of whom are still behind bars, said the confessions' similarities prove the trend was deliberate.  
"It's sort of beyond belief that it would be coincidental," Stephen Banks, the chief lawyer for the Legal Aid Society, which is reviewing 20 of Scarcella's cases, told the Times.
Law experts admitted that a detective's speech is often incorporated into the phraseology of a confession, although the likelihood that so many suspects would use the same pattern remains minimal. 
"It's hard to imagine all five people used the same exact words," said University of San Francisco law professor Richard Leo, a confessions specialist, as quoted by the Times. "It almost sounds like a template." 
Jabbar Washington is among those who claim Scarcella put them in prison without sufficient proof. Washington was implicated in a 1995 home invasion that left one man dead and two other people in comas. 
"You got it right," Washington supposedly wrote just minutes after he was brought in for questioning. "I was there." 
Washington testified at his own trial that Scarcella grabbed him by the neck and testicles before giving Washington a script for the confession, according to the Times. 
"He always said the cop fed him what to say," said Mark Pollard, Washington's lawyer at the time. 
Scarcella, for his part, has denied any wrongdoing, at one point appearing on the Dr. Phil show to discuss falsified confessions. The former detective was approached by the New York Post after the Brooklyn DA asked a judge to vacate Ranta's conviction. 
"They threw me under the bus," he said. "I was appalled when I got the news. I stand by the confession 100 per cent. I never framed anyone in my life. You have to be a low devil to frame someone. I sleep well at night."