'Choose love': Pro-Muslim ads to appear in NYC subways
Published time: 5 Oct, 2012 01:26
Edited time: 5 Oct, 2012 05:30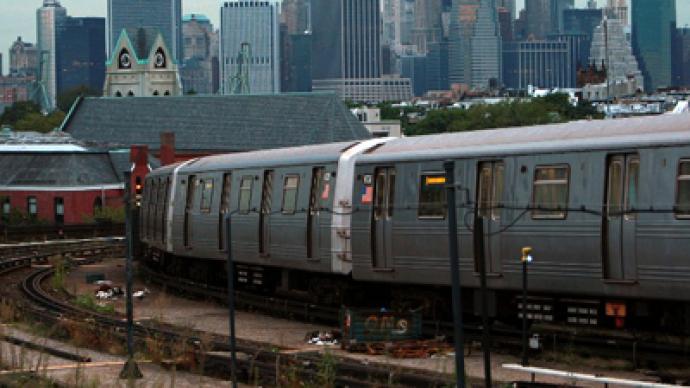 After anti-Muslim ads hit NYC subways last month, Jewish and Christian groups respond with a message of love – hanging pro-Muslim posters to condemn intolerance and celebrate the city's diversity.
Rabbis for Human Rights – North America and the Sojourners Christian group will place their adverts right next to the anti-jihad messages that were released by pro-Israel group, the American Freedom Defense Initiative (AFDI).The organization covered 10 Manhattan stations, despite strong objection by the city's Metropolitan Transportation Authority.
The original text by the AFDI declared "In any war between the civilized man and the savage, support the civilized man. Support Israel. Defeat Jihad."
The ad by Rabbis for Human Rights- North America will say "In the choice between love and hate, choose love. Help stop bigotry against our Muslim neighbors."
"Love your Muslim neighbors," is the message on the Sojourners' ad.
"Our subway platforms and buses should not be the platform for messages of hate that divide friends, neighbors, and colleagues," read a message on the Rabbis for Human Rights – North America's website.
Last week the United Methodist Women Church unveiled its response to the AFDI posters with an ad saying "Hate speech is not civilized. Support peace in word and deed."
"We needed to be present with a counter voice, we need to stand for the work of peace, and to say that free speech should not be used recklessly or in an inflammatory way," United Methodist Women General Secretary, Harriett J. Olson, said during an interfaith press conference on Sept. 25th.

(Image from Rabbis for Human Right – North America website http://www.rhr-na.org/chooselove)
Rabbis for Human Rights – North America has also called on New Yorkers to publicly condemn the executive director of the American Freedom Defense Initiative, Pamela Geller, for putting up the inflammatory anti-Muslim ads.
"These disturbing and misguided ads are not meant to educate; they are meant to increase hatred and discrimination against New York City's Muslims, and to drive a wedge between Muslims and Jews. The subway ads demonize Islam and ignore the positive contributions that our Muslim friends, neighbors and colleagues make to our country every day," says a petition on its website.
The anti-jihad ads went up in the subways late last month after a federal judge ruled that the city's transportation authorities could not legally refuse to host the signs on the basis of "demeaning" language. The ads were apparently inspired by the violent protests that have engulfed the Muslim world over an American-produced amateur film ridiculing Prophet Muhammad.
The AFDI is considered a hate group by the Southern Poverty Law Center watch group.
Geller has long advocated against so-called "Islamist propaganda" in America and has campaigned in the past to call for the shutting down of a Washington DC museum exhibit, that highlighted Muslim contributions to science. The installation was declared "Best Touring Exhibit" by the Museum Heritage Awards in 2011, but Geller claimed "It has indoctrinated hundreds of thousands of children into a rosy and romanticized view of Islam that makes them less appreciative of their own culture's achievements and more complacent about Islamization in the West."
An ad in New York Subway saying"In any war between the civilized man and the savage, support the civilized man. Support Israel. (AFP Photo / Timothy A. Clary)
A subway ad by United Methodist Women is a response to the anti-jihad ad. (Image from http://thinkprogress.org)
­