Elderly nun to await sentencing for nuclear protest in jail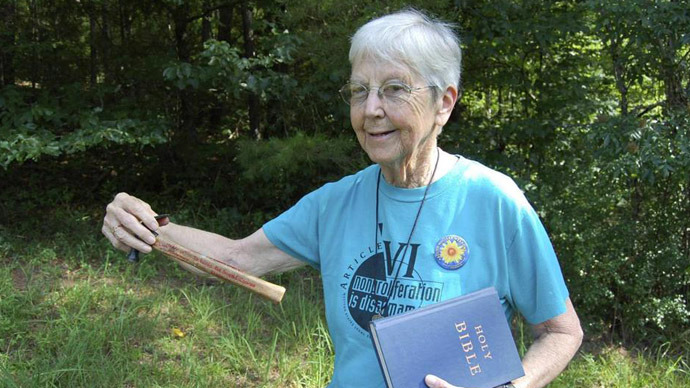 An 83-year-old Roman Catholic nun convicted of sabotage for breaching a US atomic complex has asked to be released from jail while awaiting sentencing. The old woman made the request in court on Thursday, while wearing handcuffs and leg irons.
Two other nuclear protesters also requested a temporary release from jail until they receive sentencing for breaking into and damaging a US government facility that enriches and stores weapons-grade uranium in Tennessee.
On Wednesday, the three activists were convicted of interfering with national security by breaking into the Y-12 National Security Complex on July 28, 2012 and defacing a uranium processing plant. The group claims their crime was morally driven, and that they trespassed "because the production of nuclear weapons violates everything that is moral and good," Ralph Hutchinson, coordinator for the Oak Ridge Environmental Peace Alliance, told Reuters after the incident.
The activists cut through chain-linked security fences, hung up banners and crime scene tape, hammered off a chunk of the uranium materials facility, and smeared human blood on the walls of the unit where the nuclear bomb component is stored. The New York Times called this the biggest security breach in the history of the atomic complex.
The incident served as an embarrassment for US officials, who did not discover the trespassers for several hours and who were forced to shut down the plant after the discovery of the security breach. The facility is the US government's only warehouse for storing highly enriched uranium.
Sister Megan Rice, Michael Walli and Greg Boertje-Obed are now facing up to 20 years in prison for sabotage and 10 years for causing more than $1,000 damage to government property, but won't receive their sentencing until September 23. Restrained with handcuffs and leg irons, the trio appeared in court on Thursday to request their release until the sentencing.
Amul Thapar, the US District Court Judge in Knoxville, Tenn., said he would make a decision on May 14 whether the activists will remain in custody or be released.
Prosecutor Jeff Theodore told the court that the government opposes their release, since the group testified that they felt no remorse about what they did. But defense attorney Bill Quigley argued that since his clients had not violated the law between their initial arrest and their trial, they should be allowed to leave jail for the next few months. 
"They give their word not to engage in that kind of activity pending sentencing," he said. 
Jurors found the trio guilty of sabotage and damaging property, but defense attorneys continue to argue that they took part in a symbolic break-in with no intent to harm the facility. They plan to ask the judge to throw out the national security count, on grounds of insufficient evidence.
You can share this story on social media: