NSA Director Alexander calls Snowden's claim about total wiretapping 'false'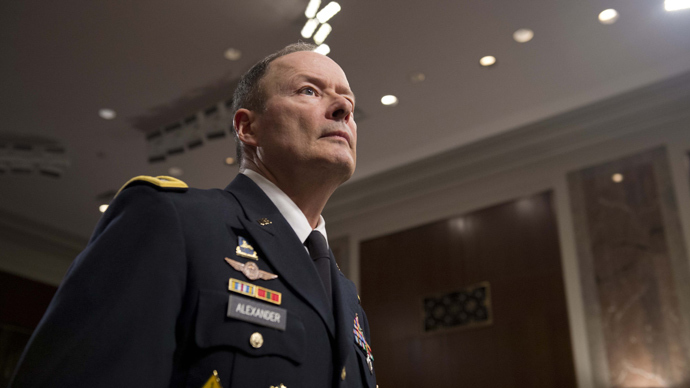 The head of the United States National Security Agency defended the dragnet phone surveillance program carried out by his office during a Senate hearing Wednesday afternoon on Capitol Hill.
Gen. Keith Alexander, the NSA director and head of the US Cyber Commander, told the Senate Appropriations defense subcommittee that the collection of personal data pertaining to millions of Americans helped the NSA thwart a number of terror plots from ever unfolding both domestically and abroad.
"Its dozens of terrorist events that these have helped prevent," Alexander told Sen. Patrick Leahy (D-Vermont) during the hearing.
Wednesday's hearing on the Hill was scheduled to focus heavily on Alexander's role with protecting the US cyber infrastructure, but the NSA scandal exposed less than a week earlier took center stage shortly after the general finished reading his opening remarks and Sen. Leahy began grilling him over a leaked program called PRISM and another surveillance operation that intercepts the online communications of US citizens. Soon other lawmakers joined in, using the opportunity to speak with the Obama administration cyber czar about PRISM and other claims made by 29-year-old NSA leaker Edward Snowden, including that he could "wiretap anyone, from you or your account to a federal judge to even the president" from the NSA's systems.
"False," Alexander answered Congress of the allegation. "I know of no way to do that."
Alexander said he plans to give Congress more accurate numbers about the alleged terrorist attacks foiled by the NSA, but acknowledged his office has had issues with being open with the public about the sensitive program in light of a recent scandal that has taken twist after turn following the release of classified documents by the UK's The Guardian last week.
"I want the American people to know that we are trying to be transparent here," Alexander pleaded during the hearing.
The Guardian leaks, which began last Thursday, revealed that millions of Americans had their personal phone call data sent to the government through PRISM. Snowden has since gone into hiding after taking credit for leaking the documents to Glenn Greenwald of the Guardian, and a US Department of Justice investigation is now underway.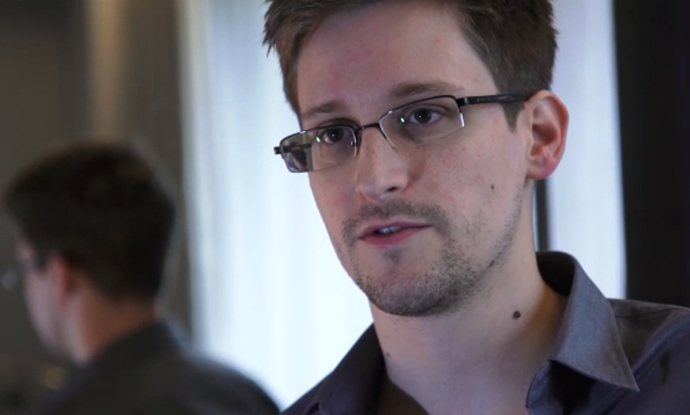 Later in the hearing, Sen. Mark Udall (D-Oregon) asked Alexander if he could ensure the NSA cooperates with any investigation into possible civil liberties or privacy violations caused by the surveillance programs, a request of which the general answered in the affirmative — but not before rejecting allegations of abuse.
"I think you bring up a very important point here, because I do think what we're doing protects Americans' civil liberties and privacy," Alexander said. "To date, we have not been able to explain it because it's classified. How do we explain this and still keep this nation secure? That's the issue that we have in front of us."
Indeed, even members of Congress wanted more answers from Alexander during Wednesday's hearing, and often lawmakers interrupted the NSA chief to have him clarify what powers exactly his agency is capable of. Sen. Jeff Merkley (D-Oregon) was one of the politicians who pushed Alexander to answer why the NSA is allowed to collect intelligence of all sorts at all times and often with little explanation.
"We have several standards of law" to make those requests, Sen. Merkley said, noting that investigators must show reasonable grounds for a relevant, authorized investigation and a valid statement of facts before submitting requests for intelligence. The latest scandal, however, goes to show that tomes of data have been detained by the government using overly broad excuses to conduct blanketing surveillance.
"What authorized investigation gave you the grounds for acquiring my cell phone data?" Merkley asked Alexander while gesturing with his mobile device.
"On the legal standards and stuff, on this part here, I think we need to get the Department of Justice and others, because it is a complex area," Alexander responded.
Sen. Dianne Feinstein (D-California), told Alexander that he must respond in full to Merkley's question in time for a separate hearing scheduled on Thursday. At that point Alexander is expected to answer more questions at length about PRISM and other NSA surveillance programs during a closed-door discussion, but on Wednesday he hinted that the disclosures so far have been more than just damaging to the administration.
"There is no doubt in my mind that we will lose capabilities because of this," he said. "Our security is jeopardized. We are less secure than two weeks ago."
The White House confirmed that a Justice Department investigation is underway, and Snowden is expected to be charged with espionage for leaking classified intelligence.
You can share this story on social media: